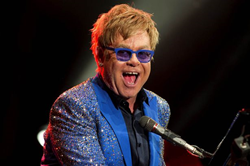 Denver, CO (PRWEB) May 14, 2014
Let's see, it was the year the Beatles broke up, Nixon was president and floppy disks were first introduced. It was 1970 in fact when six-time Grammy Award winner Elton John shot to fame with his first hit single "Your Song" 44 years ago.
Since then, he has become knighted by the Queen and sold more than 300 million records around the planet, making him one of the best-selling music artists of all time. But then, like so many remarkable talents throughout history, he was able to discover and pursue his bountiful gifts early.
At the age of three, he astonished his family by sitting down at the piano and playing The Skater's Waltz completely by ear. At 11, he received a five-year ride to London's Royal Academy of Music. That was in 1959. He began performing live in 1962 and went solo in 1969. Then, on the night of August 25, 1970, he debuted in America at The Troubadour in Los Angeles and, quite literally, became a rock star overnight.
"Today, with the world's best selling single at over 33 million copies sold, 'Something About the Way You Look Tonight/Candle in the Wind 1997', in his repertoire, it's no wonder that Elton John concerts always sell out," said Marta Ault at online ticket marketplace BuyAnySeat.com.
"Since his solo career began in 1969, John has been on tour somewhere in the world every year and performed more than 3,000 concerts to date. That's why we're proud to offer fans the most complete and continually refreshed selection of concert tickets available online, with a worry-free guarantee to protect their purchase," added Ault.
"To access the complete inventory of cheap Elton John tickets we have available – as well as the entire inventory of seats available – fans can go to BuyAnySeat.com and search for Elton John – then select their tickets."
In his five-decade career, Elton John has more than 50 Top 40 hits, including seven consecutive No. 1 US albums and the most Number One hits on the US Adult Contemporary Chart at 16. In addition to his six Grammy Awards, he has received five Brit Awards – winning two awards for Outstanding Contribution to Music and the first Brits Icon in 2013, an Academy Award, a Golden Globe Award, a Tony Award, a Disney Legend award, and the Kennedy Center Honors in 2004.
John was inducted into the Rock and Roll Hall of Fame in 1994, was named a Commander of the Order of the British Empire in 1996 and received a knighthood from Queen Elizabeth II for "services to music and charitable services" in 1998. He performed at the funeral of Princess Diana at Westminster Abbey in 1997, the Party at the Palace in 2002 and the Queen's Diamond Jubilee Concert outside Buckingham Palace in 2012.
Elton John has also been heavily involved in the fight against AIDS since the late 1980s. In 1992, he established the Elton John AIDS Foundation and a year later began hosting the annual Academy Award Party, which has since become one of the highest-profile Oscar parties in the Hollywood film industry. Since its inception, the foundation has raised over $200 million.
Recently, on April 28, the star performed at the Breast Cancer Research Foundation (BCRF) Hot Pink Party in New York City for the 14th consecutive year. At the close of Sara Bareilles' 45-minute set, he joined the singer-songwriter for a moving duet of her hit song Gravity.
Since its founding in 1993, BCRF has raised more than $480 million to advance the world's most promising breast cancer research. The Hot Pink Party alone has raised more than $60 million since its inception in 2001 with this year's event raising more than $5.2 million.
In terms of reviews, Rolling Stone gave his latest album The Diving Board four stars, writing: "The album is more focused than anything he's done in years…. Perhaps the LP's most impressive achievement is the way it returns Elton's piano to the forefront, where it ought to be."
To shop for cheap Elton John tickets, visit BuyAnySeat.com. To save to even more, enter coupon code "BAS2014" during checkout.
About BuyAnySeat.com: An online ticket marketplace, BuyAnySeat.com connects sports, theater and other live entertainment fans to an extensive worldwide network of ticket sellers. The site's simplified listings and navigational tools enable fans to easily locate, compare and purchase inexpensive, discounted or lower-priced tickets to virtually all advertised sports and entertainment events around the globe.
The marketplace, which is PCI-compliant and Norton Secured, also provides customers with a complete Worry-Free Guarantee on all ticket purchases. Based in Denver, Colorado, BuyAnySeat.com is a subsidiary of Denver Media Holdings. For more information, please visit http://buyanyseat.com.