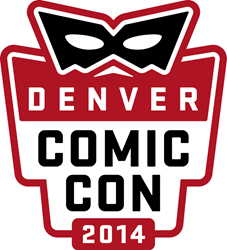 DENVER (PRWEB) May 14, 2014
Denver Comic Con and Literary Conference (DCC), a program of Comic Book Classroom (CBC) designed to help promote literacy through pop culture, today announced Grant Bowler and Stephanie Leonidas of SyFy's "Defiance" will be in attendance.
"'Defiance' is pushing the boundaries of how we interact with our pop culture by having the television show and video game of the same name influence one another," said Christina Angel, DCC director. "Because Comic Book Classroom is an organization that is committed to using pop culture in the classroom and exploring how various media work together, it's fascinating to see this kind of symbiosis."
Bowler plays Joshua Nolan, the lawman for the town of Defiance, a community where humans and intelligent extraterrestrial species coexist in a radically transformed Earth. The show follows Nolan, his adopted alien daughter Irisa, played by Leonidas. The show and the video game exist concurrently in a shared universe; events in the show influence the game.
The second season of "Defiance" premiers Thursday, June 19—less than a week after DCC.
Grant Bowler – Bowler is known for his roles on shows such as "Ugly Betty," "True Blood," "Outrageous Fortune" and "Blue Heelers." He also recently starred opposite Lindsay Lohan as Richard Burton in the TV movie "Liz & Dick," and had a role in "Killer Elite." He's also appearing in the upcoming "Lucky Dog" and "Zoey to the Max."
Stephanie Leonidas – In addition to her work on "Defiance," Leonidas is known for her starring role in Neil Gaiman and Dave McKean's "MirrorMask," in a BBC adaptation of "Dracula," "Crusade in Jeans" and the BBC made-for-TV film "Atlantis: End of a World, Birth of a Legend." Most recently, Leonidas teamed-up again with Mckean in the upcoming "Luna."
For more information about Comic Book Classroom, Denver Comic Con and ticket information, visit http://www.ComicBookClassroom.org or http://www.DenverComicCon.com.
About Denver Comic Con
Entering its third year, the Denver Comic Con (DCC) is Denver's premiere pop-culture fan experience, covering the worlds of comic books, film, and related media. It is also an extension of and an awareness builder for its parent organization, Comic Book Classroom. For the latest news and information, visit http://www.denvercomiccon.com.
About Comic Book Classroom
Comic Book Classroom (CBC) is a charitable organization that educates through alternative approaches to literacy, learning, and character development. CBC creates programs for underserved students, schools and communities via comic books, graphic novels, and related media. CBC is the organizer and producer for the DCC. http://www.comicbookclassroom.org.
###
Media Contact:
Jason Jansky, DStreet
jjansky(at)dstreetpr(dot)com
(303) 748-3300