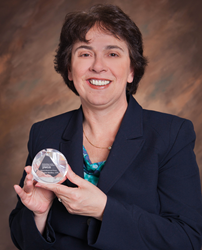 Newark, NJ (PRWEB) May 13, 2014
Catherine Merlino, Controller for Horizon Blue Cross Blue Shield of New Jersey (Horizon BCBSNJ), was honored at the 35th annual Tribute to Women and Industry (TWIN) awards gala, which was held earlier this month at the Bridgewater Marriott. Sponsored by the YWCA Union County, the TWIN award honors women who have excelled in their fields and made significant contributions to industry in executive, managerial and professional roles.
"Horizon applauds all of this year's TWIN honorees and we are especially proud of Catherine's recognition as a role model to other women in her profession and the health insurance industry," said Alison Banks-Moore, Chief Diversity Officer, Horizon BCBSNJ. "Catherine's contributions to our company serve as an example of excellence for all current and future leaders."
As Controller, Ms. Merlino is responsible for serving as the company's technical accounting expert and determining proper procedures for all accounting transactions. Ms. Merlino assesses the potential impact of any accounting changes on the company's financial position and operations. Through her oversight of internal controls and commitment to applying best practices in the processing of financial data, Ms. Merlino ensures the accuracy of Horizon BCBSNJ's financial reporting.
In addition to her technical expertise, Ms. Merlino is an advocate of employee engagement and career development.
"I am honored to be recognized by the YWCA Union County for my contributions to Horizon and feel privileged to be considered a role model for others," said Merlino, a resident of Vernon, New Jersey. "I feel fortunate to be part of a company that sets the standard for integrity in finance and accounting and motivates its employees to grow and excel as leaders."
The TWIN awards program originated in New Jersey in 1975 and was introduced to Central New Jersey in 1979. Now a national and international award program of the YWCA, TWIN has honored more than 800 women from companies large and small throughout central New Jersey. The program also recognizes corporations whose policies and practices encourage high achievement by women and who promote equal advancement opportunities for women of diverse backgrounds.
About Horizon BCBSNJ's Diversity programs
Horizon BCBSNJ has instituted many programs aimed at promoting diversity within the company including: paid minority internships and manager development programs, as well as a Diversity Council and minority leadership programs. To learn more about Horizon BCBSNJ and its diversity efforts, visit: http://www.HorizonBlue.com/diversity
About Horizon Blue Cross Blue Shield of New Jersey
Horizon Blue Cross Blue Shield of New Jersey, the state's oldest and largest health insurer, is a tax-paying, not-for-profit health services corporation, providing a wide array of medical, dental, and prescription insurance products and services. Horizon BCBSNJ is an independent licensee of the Blue Cross and Blue Shield Association, serving 3.7 million members with headquarters in Newark and offices in Wall, Mt. Laurel, and West Trenton. Learn more at http://www.HorizonBlue.com.
###