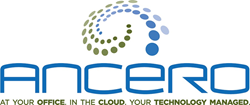 Expanding our staff is a true testament to our clients, as well as enabling us to enjoy rapid growth as an industry leader. -Paul Boyer
Mt. Laurel, NJ (PRWEB) May 15, 2014
Ancero, one of the largest communications solution providers in the Mid-Atlantic, announced today the addition of six new team members.
"I am thrilled to announce the valuable additions to our team," said Paul Boyer, Principal. "Expanding our staff is a true testament to our clients, as well as enabling us to enjoy rapid growth as an industry leader."
Robert Cervone of Hatboro, PA joins Ancero as an Account Executive. Cervone brings his depth of Network Services to Ancero after previous ownership of ServeOne Communications and many other years in the carrier industry.
Donald Bennett of Vineland, N.J. re-joined the team as a Help Desk engineer. Don is a previous employee of Ancero and is welcomed back with great enthusiasm.
David Robinson of Cherry Hill, N.J. came aboard in February as a Help Desk engineer. David was previously employed with Jean Madeline, Inc. and Cannon Group Enterprises where he excelled as an IT and telecommunications engineer.
The rapid growth created the opportunity to expand the Ancero Network Operations Center with 3 new technicians: Dmitri Harris of Mt. Laurel, Rudy Diaz of Philadelphia and Austin Clark of Levittown. This expansion ensures clients the valuable 24/7/365 support that only Ancero can offer.
Ancero has enjoyed recent success with the launch of AnceroAir powered by MaaS360. This true end to end Mobile Device Management solution is an urgent need for most businesses in the age of Bring Your Own Device. AnceroAir secures valuable company data and provides control over their mobile environment to reduce the risk and cost of managing these devices.
In addition, Ancero was recently selected by SJ Biz readers as a 2013 Best of Biz winner for Computer Services. And was also honored at the 2013 Tri-County Economic Development Summit as Burlington County's Outstanding Technology Company.
About Ancero
For small to medium-sized companies, Ancero delivers communication solutions to enable adoption of technology to improve productivity and efficiency. Ancero provides the expertise necessary to incorporate the capabilities of diverse technologies to deliver a solution that ensures employee communications. We are a dedicated team responsive to our customer's unique and changing needs, providing a differentiated experience while delivering value to our customers. For more information visit http://www.ancero.com