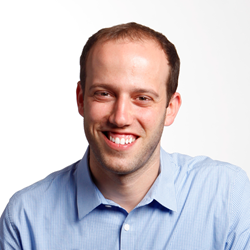 San Francisco, CA (PRWEB) May 14, 2014
Change.org, the world's largest social change platform, announced that Vice President of Communications Benjamin Joffe-Walt has been promoted to chief of staff of the 70 million-user company.
The world's largest petition platform, Change.org has staff in 18 countries and is growing by more than 4 million users a month. It is the largest and fastest-growing social change organization in the world.
Joffe-Walt will work alongside Change.org Founder and CEO Ben Rattray, one of Time's 100 most influential people, and President and COO Jennifer Dulski, a former Google and Yahoo! executive who was the first woman to sell a company to Google.
An award-winning war reporter, Joffe-Walt has worked throughout Africa and the Middle East and joined Change.org in 2011 to build what has since become one of the world's most prominent social change brands.
Joffe-Walt assembled a 30-person communications team across 12 countries, which has driven coverage in an average of 200 media outlets per day (approximately 75,000 stories per year), including TIME, the New York Times, Washington Post, Guardian, Bloomberg, Fortune, Businessweek, CNN, BBC, The Daily Show, Ellen, Diane Sawyer, Anderson Cooper. PR News named Change.org's communications teams one of the top places to work in PR.
Change.org founder and CEO Ben Rattray celebrated the decision in an internal email to staff: "The key characteristics of a great chief of staff are that they are outstanding communicators, detail-oriented organizers, have significant institutional knowledge, are deeply trusted, and are excellent at execution," said Rattray. "This description fits Benjamin perfectly."
Prior to working at Change.org, Joffe-Walt was a journalist and editor. His work appeared in academic journals and a wide variety of media, including the Economist, BBC, and New Statesman. He served as foreign correspondent for the Guardian and chief Africa correspondent for the Sunday Telegraph. In 2004, Joffe-Walt was named Young Journalist of the Year by the British Foreign Press in 2004, and the following year, he was awarded Africa Print Journalist of the Year by CNN.
Change.org is a certified B corporation, meaning it is held to high standards of social and environmental performance, accountability, and transparency set by B Labs, an independent certifying group.