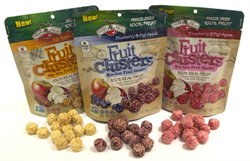 We believe these are as close as one can get to the perfect snack.
Rochester, NY (PRWEB) May 20, 2014
Brothers-All-Natural continues to innovate and expand the freeze-dried fruit industry with their freeze-dried fruit snacks. With the introduction of their new Fruit Clusters™ they are taking freeze-dried fruit to new heights, raising the bar for snack companies and snack lovers alike.
Fruit Clusters™ are crispy, crunchy fruit snacks made with the best fruits from around the world that have been cut into pieces, freeze-dried, and rolled into a fun, bite-sized "cluster." The Fruit Clusters™ offer a unique twist from Fruit Crisps; packed with blended flavors that will take the taste buds to new horizons. They are available in Raspberry Apple, Blueberry Apple, and Apple Cinnamon. Each 1.25 oz. bag of Fruit Clusters™ contains six fruit servings, and is resealable for convenience and anytime snacking.
"After two years of research and development we are excited to make this announcement," said Travis Betters, Co-CEO of Brothers International Food Corporation. "The response we received from test marketing the Fruit Clusters was overwhelming. We believe these are as close as one can get to the perfect snack," he added.
Like Brothers-All-Natural Fruit Crisps, the new Fruit Clusters™ are 100% fruit, nothing else. They are gluten free, soy free, peanut/tree nut free, non GMO, vegan, and OU Kosher certified with absolutely no added sugars, additives, or preservatives.
Fruit Clusters™ will be introduced at the Sweets and Snacks Expo May 20-22 in Chicago; come by booth #2058 to sample the products. They will be available on brothersallnatural.com for purchase beginning May 20th and launching in various retail locations this summer. For further information or inquires please contact Brothers-All-Natural at info(at)brothersallnatural(dot)com.
About Brothers International Food Corporation
Brothers International Food Corporation is a privately owned food and beverage company based in Rochester, New York with offices in North Carolina, China and Ecuador. The company was founded in 2001 by brothers Matt and Travis Betters, whose family was involved in the processed fruit and vegetable industry for more than 65 years. In addition to supplying top-quality fruit and fruit juice concentrates to a number of Fortune 100 food companies, Brothers International is the parent company of Brothers-All-Natural, producing Fruit Crisps and Fruit Clusters, all-natural 100% fruit snacks, Harvester Farms freeze-dried fruits and vegetables for long term food storage, as well as Fruit & Oats, and Lost Vineyards, importing low-cost wines from little-known vineyards in Europe and South America. For more information visit brothersinternational.com.