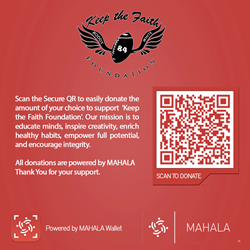 Partnering with Mahala allows us to easily reach our supporters, and it cost less and is easier to use than any other solution we have tried before… and we have tried a lot…
Atlanta, GA (PRWEB) May 14, 2014
Skynet Technology Group, Inc. is proud to announce their digital commerce platform has been chosen by "Keep the Faith Foundation" to power donations for their 2014 Spring Fundraising Gala, to be held at the Arthur Blank Family Offices in Atlanta, Georgia.
The team at 'Keep the Faith Foundation' chose Mahala due to their unique business approach and easy to use commerce solution, which solves multiple security concerns for non-profits, while bringing an unprecedented level of convenience and security to the donor experience.
With Mahala, donors can easily donate any amount, anywhere; via social sites, videos, print ads, table toppers at the event and other locations distributed throughout the Arthur Blank offices. This allows the Foundation, as well as any other "Mahala-Powered" non-profit organization, an easy and low cost solution for collecting donations from their supporters.
Roddy White, a four-time "Pro Bowler" and the Atlanta Falcons' single-season receiving yards record holder, launched the foundation in 2005 to give back to the communities that supported him through his youth. Their mission statement is to educate minds, inspire creativity, enrich healthy habits, empower full potential, and encourage integrity.
The nonprofit, previously known as "Playmaker Foundation", provides scholarships, donates equipment to local schools, and funds mentoring programs throughout the Southeast.
Mr. White said of the foundation and its partnership with Mahala: "When I was growing up in South Carolina, I vowed to give back when I could," White said. "As a role model, I know I can make a huge difference in underprivileged kids' lives. With Mahala, we all can make it easier than ever to help them financially."
"Our experience with Mahala has been overwhelmingly positive," said 'Keep the Faith Foundation' Board-of-Directors President, Mr. Michael Stovall.
Mr. Stovall continued: "Partnering with Mahala allows us to easily reach our supporters, and it cost less and is easier to use than any other solution we have tried before… and we have tried a lot… the team at Mahala really cares about what they do, and they make it easy to work with them. This was the perfect platform for our fundraising activities."
When asked about his thoughts on the partnership with 'Keep the Faith Foundation', Mahala CEO Sonny Fisher said: "For us it was a clear choice… we have been working with 'Keep the Foundation' since our very early days, so any chance we have to help them on their mission they know we are 100% committed to the cause… our entire team is very proud to support 'Keep the Faith Foundation' on their mission to enrich the lives of our local youths"
Mahala is available for use by any non-profit looking for an easy to use and cost effective fundraising solution.
# # #
About Mahala
Mahala Means "FREE". Our goal since inception was to create a free and secure commerce solution for the digital age, one that empowered consumers, non-profits and merchants equally.
Unlike other mobile wallet applications, Mahala is a complete end-to-end commerce system that can be used anywhere. The Mahala Wallet for consumers and Mahala Merchant for sellers are available for free in the Android and iPhone stores. Web portals are accessible online, and the solution can be used with existing credit, debit, ACH and PayPal accounts.
The Mahala team consists of entertainment and technology industry veterans, certified banking system experts, World Bank appointees, multiple former Fortune 50 executives and business professionals from across the globe.
To learn more, please visit http://www.mahala.us/.