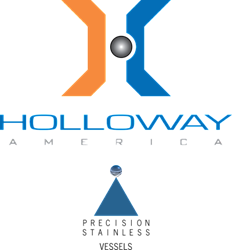 Whether crafting a one-of-a-kind tank or providing crucial replacement parts, we pride ourselves on unsurpassed service.
Springfield, MO (PRWEB) May 14, 2014
HOLLOWAY AMERICA today announced an improved service for customers in need of pressure vessel parts. The custom fabrication company has developed an extensive Spare Components Database for all original Precision Stainless, Inc. and Letsch Corporation pressure vessels, making the replacement process faster and more convenient for customers. Using the database, the company's sales engineers can quickly find any spare part—complete with design details—the two manufacturers once fabricated. If HOLLOWAY AMERICA does not have the pressure component on hand, their master craftsmen will fabricate it to specification.
Highly experienced in the stainless steel tanks industry, HOLLOWAY Director of Marketing Randy Colwell cited an obvious need to streamline the replacement process for popular yet hard-to-find spare parts: "When someone needs a component for an older tank, that generally means there's a stop in production. With every moment of downtime costing literally hundreds of thousands, if not millions, of dollars, profits and jobs are often on the line. When a customer calls for a part, we know the issue is the most important thing in his or her world at the moment. So we have a dedicated staff ready to quickly and effectively handle those needs."
In addition to supplying spare pressure vessel parts for Precision Stainless, Inc. and Letsch Corporation tanks, HOLLOWAY fabricates components to other manufacturers' specifications—often for considerably less cost than the original manufacturer. Colwell noted that certain components remain in high demand due to the operating conditions they endure every time a tank is used. "Two of the bigger movers we supply are gaskets and O-Rings, both of which we either keep on hand or fabricate in house, depending on the tank model. We recommend ordering gaskets and O-Rings in 10-piece sets, which lets us reduce costs and eradicate downtime before it occurs," stated Colwell.
Components Sales Engineer Dustin Jantz also addressed the need for faster turnarounds when replacing parts on tanks and pressure vessels. "Whether crafting a one-of-a-kind tank or providing replacement parts, we pride ourselves on unsurpassed service," said Jantz. He added, "When someone sends us a serial number for a tank part, they're asking us to address an emergency of sorts. Because we consider the need an urgent matter, we set to work immediately. We're able to quickly provide a timeframe for the solution, which we can often deliver in just a couple days. While custom orders obviously require more time, we can generally fabricate the part and deliver within 4 or 5 weeks."
For more information on custom pressure vessel fabrication, contact HOLLOWAY AMERICA at 417.863.0077 or by email at info(at)HollowayAmerica(dot)com.