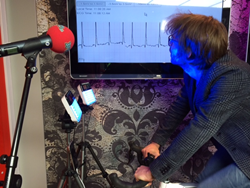 Irvine, California (PRWEB) May 14, 2014
On Monday May 12 at 6.00 a.m., Giel Beelen starts the biggest challenge of his career. He will try to obtain the Guinness World Record "Longest Marathon, Radio DJ". Two years ago the Belgian DJ Peter van der Veire of MNM (VRT) won the record with a radio marathon of 185 hours. Both DJs asked Toine Schoutens, director of Flux Plus Consultancy in Tilburg the Netherlands, to counsel them. Schoutens is an expert in the field of Chrono Performance Management, a method used to optimize shape and condition at odd times and places. The Guinness regulations allow five minutes of rest after each hour of making radio. These minutes of rest may be heaped. This creates the opportunity to develop an artificial day/night-rhythm so that the possibility of attaining the record increases.
Schoutens developed Chrono Performance Management (CPM) in recent years and counseled many elite athletes traveling to distant destinations. He advised the Dutch Olympic skaters, swimmers, cyclists, gymnasts and rowers how to fight jet lag and improve performance at the place of destination. The method contains a combination of light therapy and sleep/wake-support. Next to this, a sophisticated diet will support the sleep. Schoutens indicates the method needs further development to make it more customer-friendly and therefore effective.
The conventional light therapy, for example, is a rather dull technique that asks people to sit behind a light device for 30 minutes, with timing being a very important aspect of the therapy. By using intelligent software technologies and wearable devices, the method can be further optimized. Schoutens chose the SquareOne from Nature Bright Company. NatureBright's goal is to bring the mass market the best technology has to offer.
A recognized leader in light therapy and dawn dusk simulation therapy products, Nature Bright Company is continually innovating to incorporate the latest scientific discoveries. Over the past thirteen years, NatureBright has partnered with Harvard University, Western Michigan University, Cornell University, South Carolina Medical University to develop light therapy technology for sleep deprivation, jet lag, shift-work fatigue, seasonal depression and anxiety. NatureBright is excited to see their SquareOne to harness elite sports (CPM), which is also used in aviation, healthcare and in control rooms.
Note to editors
More information: Ann Huang, 1800.622.0231 x 1007
Nature Bright Company
19200 Von Karman Avenue
Suite 350
Irvine, CA 92612
Ph: 949.625.4900 X 1007
Email: info(at)naturebright(dot)com
URL: http://www.naturebright.com