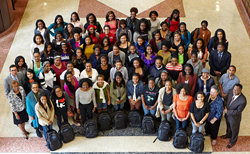 During the two-week programs, students are fully immersed in their host country's cultures and learn how to enhance intercultural competencies and leadership skills through customized courses taught by CIEE staff.
Portland, Maine (PRWEB) May 13, 2014
CIEE: Council on International Educational Exchange, the oldest nonprofit study abroad and international exchange organization in the country, and Spelman College, the oldest historically black college for women in the United States, have joined forces to help more students and faculty benefit from international education.
More than 100 students and eight Spelman faculty members departed May 11 to participate in custom programs in Lima, Peru; Legon, Ghana; Santo Domingo, Dominican Republic; or Lisbon, Portugal. They return May 25. (Watch the video at studynews.ciee.org.)
During the two-week programs, students are fully immersed in their host country's cultures through co-curricular activities. They also take part in custom intercultural engagement curriculum taught by CIEE staff, which is designed to enhance students' intercultural competencies and leadership skills.
Before departing for their adventures, students were looking forward to the chance to explore new cultures and challenge their perspectives on the world. "This experience will allow me to realize the things I take for granted here in the United States, such as my rights as a woman, or the opportunities for education, or even the everyday luxuries we enjoy," said Renatta Landrau, a psychology/early childhood education major heading for Peru. "It will help me think more critically about American society."
Leaving the country – and the classroom – are essential to this process. "Most of what I know has come from textbooks," noted Landrau. "But one can learn a great deal more through firsthand experiences."
Many students also were eager to learn skills they need to become leaders back in the States. "With diversity in the United States continuing to expand, it is important that today's leaders and professionals be able to communicate and interact with people of any culture in an all-inclusive manner," said Landrau. Learning about different values, religions, and traditions in these locations is an ideal springboard.
As they departed, Spelman students looked to how these international experiences might impact their careers. Though the fields they pursue range from journalism to psychology, each young woman said she saw this trip as a key step toward her goals.
CIEE and Spelman hope this program spurs more students from a range of majors to study abroad before they graduate. Since 2009, the number of students with global travel experiences at Spelman has grown from an average of 75 to 100 students a year to 279 students in the 2012-2013 academic year. The partnership with CIEE is expected to further increase this number by more than 35 percent.
CIEE: Council on International Educational Exchange
Founded in 1947, CIEE is the country's oldest and largest nonprofit study abroad and intercultural exchange organization, serving 300 U.S. colleges and universities, 1,000 U.S. high schools, and more than 35,000 international exchange students each year. CIEE operates 60 study centers in 40 countries, sponsors international faculty training programs, teach abroad programs, and various specialty and custom programs for secondary, postsecondary, and international students. Visit http://www.ciee.org.
Spelman College
Founded in 1881, Spelman College is a highly selective liberal arts college widely recognized as the global leader in the education of women of African descent. Located in Atlanta, the College's picturesque campus is home to 2,100 students. Outstanding alumnae include Children's Defense Fund founder Marian Wright Edelman; Sam's Club CEO Rosalind Brewer; Broadway producer Alia Jones; former Acting Surgeon General and Spelman's first alumna president Audrey Forbes Manley; Harvard University Professor Evelynn Hammonds; author Pearl Cleage; and actress LaTanya Richardson Jackson. Visit http://www.spelman.edu.