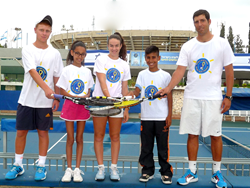 New York, NY (PRWEB) May 14, 2014
The Israel Tennis Centers announced plans for an ambitious early summer 2014 program featuring a series of fundraising exhibitions in Toronto, New York, New Jersey and Pennsylvania. Focused on "Empowering Israel's Children…Beyond Tennis", the ITC will be visiting the following important geographic territories in May and June to expand its visibility and donor base:
Toronto, Canada - Sunday, May 25th
Short Hills, NJ - Friday, May 30th
Scarsdale, NY - Sunday, June 1st
Philadelphia, PA - Wednesday & Thursday, June 4th & 5th
A diverse team of Israeli players and coaches will be flying to Canada and the U.S. to meet people interested in learning more about the important work of the Israel Tennis Centers. This year the program concludes on June 5th with a groundbreaking event in Philadelphia entitled "Building Bridges…The Philadelphia Israel Tennis Exchange". It will feature children from the Legacy Youth Tennis and Education program in Philadelphia and the Israel Tennis Centers competing in an exciting international youth tennis exhibition. The plan calls for this event to become part of a larger Penpal exchange program culminating in visits in the US and Israel. Both organizations use tennis as the platform to teach life skills to disadvantaged children.
The ITC uses tennis as a tool to improve the lives of Israeli youth of all backgrounds. Through its social impact programs, a wide range of children are served, including youth at risk, immigrants and children with special needs, from autism and ADHD to Down Syndrome as well as those with developmental and physical disabilities. Tennis has the unparalleled ability to bring together children from different religions in coexistence programs, promoting understanding, cooperation and friendship on and off the court.
The Israeli players include Yoav, an 11-year old from the ITC in Ramat Hasharon. Before he started playing at the age of 8, he came to watch his older sister Maya, who loved the game and was one of the most talented Israeli players in her age group. However, tragedy struck Yoav's family three years ago when Maya was killed in a car accident at the age of 12. This was particularly hard on Yoav, who was very close to his sister. "Maya and I had a special relationship. I miss her a lot. Now when I play tennis, I feel like she is there with me on the court, playing and smiling, and together we make an unbeatable team." Yoav also attributes his success to the support he receives from the ITC. "I am so close with my coaches and friends there. It is really like a second home to me."
For more information or to attend any of the events, please contact ITC Development Director Yoni Yair at 954-480-6333 or yyair(at)israeltenniscenters(dot)org.
About the Israel Tennis Centers Foundation:
The Israel Tennis Centers Foundation (ITC) is a 501 (c) 3 not-for-profit organization that works tirelessly through the medium of sport to enhance the development of Israeli youth. Since opening its first center in Ramat Hasharon in 1976, the ITC has helped over 400,000 children, many of whom come from outlying development towns throughout Israel. The ITC's 14 centers stretch from Kiryat Shmona on the Lebanese border in the North to Beer Sheva bordering the Negev Desert in the South. http://www.israeltenniscenters.org.
Contacts:
Jacqueline Glodstein
ITC Vice President/Global Development
646-884-7450
jglodstein(at)israeltenniscenters(dot)org
Richard Weber
ITC Global Director of Marketing
646-884-7410
rweber(at)israeltenniscenters(dot)org