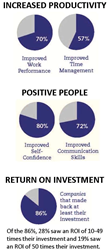 Healdsburg, CA (PRWEB) May 15, 2014
People around the world are looking to find ways to succeed in business and create more in their life. They see coaching as a new resource. This is a growing profession with credibility established by the International Coach Federation (ICF) which has done a great job to build awareness and value for professional coaches by setting the bar high in the areas of ethics, standards and education.
"Rising demand is not only coming from corporations, but from individuals who want greater skills in the workplace and a sense of fulfillment in their life. This rise in demand is fueled by multiple reports that show how effective professional executive coaching really is," according to Barbara Fagan, co-founder of Source Point Training (http://www.SourcePointTraining.com).
Many international companies are now turning to coach training organizations in the United States to add value to their existing professional programs. InVision Asia, with locations in Hong Kong, Guangzhou and Taipei, offers trainings to empower people to take on new levels of professionalism and higher education to be successful. Through a partnership with Source Point Training formed in 2013, InVision now offers Source Point Training's Certified Professional Performance Coaching training to their clients. Their first class of coaches in Hong Kong and Taipei are just completing Fundamentals of Performance Coaching and are preparing for Mastery of Performance Coaching.
Source Point Training also works with many organizations in the US to bring a coaching culture to their organization by offering Coaching Skills and Tools trainings as a way to have their leaders be more effective at coaching and mentoring people. There is a stronger case than ever for offering employee coaching in the workplace, according to new research conducted by the Chartered Institute of Personnel and Development (CIPD) based in the UK. The report, entitled, "Taking the Temperature of Coaching," highlights coaching as a cornerstone of high performance that focuses on the professional development of individual employees.
Recent studies indicate that organizations that use professional coaching reported a median return on investment of seven times their initial investment, according to the ICF Global Coaching Studies conducted by PricewaterhouseCoopers and Association Resource Centre, Inc.
"Companies with a coaching culture have a proven record of higher levels of employee engagement. There is no better time than now to develop these skills as competition for recruiting and retaining the best talent becomes more competitive as businesses recover and expand." Fagan shares, "As leaders in the coach training industry, we certify our coaches as Performance Coaches because we understand that this is the where coaching is headed - coaching higher levels of personal and professional performance."
Source Point Training selects a small group of students each year to study professional coaching at their training location in Phoenix Arizona. They are taught the ICF Coaching Core Competencies and more. "I want to ensure that the coaches we train go on to become successful professional coaches so we mentor them in building and developing a strong business model focused on the markets they want to serve," says Fagan. "As a result, we are proud to have many very successful coaches working world wide in fields they are dedicated to serve."
Fagan is proud that the ICF has approved their curriculum for 141.5 CCE units. This provides coaches with the training requirements to apply for the Associate Certified Coach (ACC) credential with ICF. Source Point Training is now offering Open Enrollment and accepting applications for their U.S. coach training.
Program: Fundamentals of Performance Coaching
Dates: Nov. 14-16, 2014; Feb. 6-8, 2015; and April 17-19, 2015
Program: Mastery of Performance Coaching
Dates: June 5-7 and Aug. 21-23, 2015
Location: Phoenix, AZ
"In order to be effective today, we cannot live our life in a set of compartments," says Fagan. "The way that our world is changing, we see more and more the cross over between work, play, family, friends and business associates."
See this video testimonial by recent graduates of Source Point Training's Coaching Fundamentals and Mastery Certification programs.
To get answers to your questions, go to http://www.sourcepointtraining.com/coach-training/fundamentals-of-performance-coaching/, for frequently asked questions and answers about coaching or email admin(at)sourcepointtraining(dot)com or call 800-217-5660 x101.