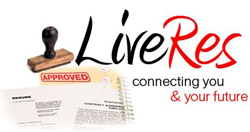 Since using LiveRes, my job as a Hiring and Training Manger has gotten so much easier. I am now able interview anyone, at any time by using the video interview feature.
Miami Fl. (PRWEB) May 14, 2014
LiveRes (http://www.live-resume.com) has found a better way to connect Employers to qualified Job Seekers instantly using the very best of technology and social media. The concept stated as a conversation between two longtime friends who were expressing their frustrations on the difficulties of finding qualified people to hire. Within days, Co-founders Matthew R. DeRose and Douglas A. Cochrane contracted one the industries best to head up IT Development.
"In the initial phases of the project, it seemed like a good idea, adding a matching component to a traditional job site to eliminate the need to "hope" that the right employer and applicant find each other. Now that the site has launched and the feature list has exponentially grown we see that it was not a good idea…it's a great idea! Our whole team is really proud of the system we've put together and we continue to work on the next phase to expand on it." says Robert Cohen Head of IT Development.
LiveRes is a 100% free website that is changing the way Job Seekers and Employers connect by matching only qualified applicant profiles with available positions based on employer-provided criteria and then placing those profiles directly in front of hiring managers to view.
"I started using Live-Resume.com a few months ago, and I have had great success. It's easy to navigate and it is very user friendly. It took just minutes to set up our company profile, and post a job. And within minutes, I had dozens of qualified applicant profiles, resumes and video resumes on my bulletin board to view. Since using Live Res, my job as a Hiring and Training Manger has gotten so much easier. I am now able interview anyone, at anytime by using the video interview feature. Whether I'm looking for a seasoned professional, or a general laborer, LiveRes makes it quick and simple." says Cassandra Pierce, Hiring and Training Manager at Douglas Company in North Attleboro MA.
After a successful showing at the Small Business Expo conference in Chicago, IL, LiveRes is continuing its expanding job-connection campaign on May 15th, 2014 in Dallas, TX, at the second of seven nationwide Small Business Expos. At the Dallas event, LiveRes will continue to promote the company's fun, proven and unique approach to finding and filling a job to the expected 5,000 attendees. Also while at the show, LiveRes will be introducing some new and exciting features.
As social media continues to change how companies and businesses stay in touch, so does the innovation and development process for LiveRes. Users will now have the ability to promote themselves or their businesses by sending one invitation to multiple contacts where with a simple click of a link, those contacts can instantly view that user's public board. In addition, any viewing someone's board will have the ability to send instant messages to the owner of the board.
Thousands of people and hundreds of companies nationwide use LiveRes.
To find out how LiveRes can help connect you and your future, visit: http://www.live-resume.com