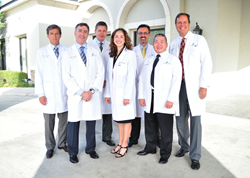 Accomplishing such a milestone is a wonderful testimony to the dedication and determination of the physicians at PRMA.
San Antonio, TX (PRWEB) May 15, 2014
PRMA Plastic Surgery announced today that in the month of April the surgeons performed a record breaking 60 DIEP flap breast reconstructions. This makes PRMA one of very few breast reconstruction centers in the world to achieve such a high number of successful DIEP flaps in one month.
The DIEP flap is the most advanced "natural" breast reconstruction option available today. Using the patient's abdominal skin and fat to reconstruct a new breast, the DIEP flap procedure preserves the abdominal muscle, unlike the similar TRAM flap. Since all the abdominal muscle is saved, patients feel less pain after surgery and enjoy a faster recovery.
"Accomplishing such a milestone is a wonderful testimony to the dedication and passion of our team for what we do," says Dr. Minas Chrysopoulo.
Patient Mary Brunner could not agree more stating she was "overjoyed to hear [she] was a record setting patient and tickled to death by how quickly [she] is recovering." She also went on to say she is "amazed at how great [her] reconstruction is healing and how wonderful she feels only two weeks post-surgery thanks to PRMA."
Since opening their doors in 1994, PRMA has grown to include a team of seven surgeons with two locations and is one of the most renowned breast reconstruction centers in the world.
About PRMA:
PRMA Plastic Surgery in San Antonio, Texas, specializes in state-of-the-art breast reconstruction. Procedures offered include the DIEP flap, SIEA flap, GAP flap, TUG flap, fat grafting, Alloderm One-Step, vascularized lymph node transfer and nipple-sparing mastectomy. PRMA is In-Network for most US insurance plans and routinely welcomes patients from across and outside the US. Connect with other patients in our breast reconstruction community on Facebook.