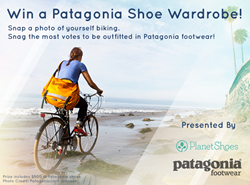 Waltham, MA (PRWEB) May 15, 2014
PlanetShoes and lifestyle retailer Patagonia are proud to announce the launch of their photo contest during the month of May. Contestants are asked to upload a creative, unique picture of themselves biking. After campaigning for votes from their friends and family, the contestant with the most votes will be will be outfitted in Patagonia shoes. Both Patagonia and PlanetShoes have chosen to run the contest to promote an active, outdoor lifestyle they truly believe in.
The winner of this contest will receive a Patagonia footwear wardrobe, including $500 worth of Patagonia shoes.
To enter the contest, one should visit the PlanetShoes Facebook Contest Page or http://woobox.com/b6xxb5.
About Patagonia
Patagonia's values reflect those of a business started by a band of climbers and surfers and the minimalist style they promoted. The approach they take towards product design demonstrates a bias for simplicity and utility. For Patagonia, a love of wild and beautiful places demands participation in the fight to save them, and to help reverse the steep decline in the overall environmental health of our planet. They donate their time, services and at least 1% of their sales to hundreds of grassroots environmental groups all over the world who work to help reverse the tide. Staying true to their core values during thirty-plus years in business has helped them create a company they're proud to run and work for.
About PlanetShoes
PlanetShoes.com is a lifestyle retailer committed to carrying a large assortment of distinctive, hard-to-find shoes, boots, bags and accessories that blend style, comfort and value. PlanetShoes goes beyond the traditional online shoe shopping experience, helping visitors explore and discover brands that matter. Shoppers can check out the hottest fashions and trends, or browse by categories such as eco-friendly, vegan, made in the USA, made in Europe, health and wellness, travel, outdoor and wide widths. And with a wide selection of products from more than 200 brands, PlanetShoes has something for every occasion, style and season. For more information, please visit http://www.planetshoes.com.