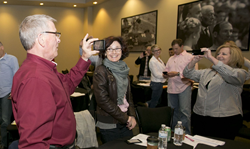 Chicago, IL (PRWEB) May 13, 2014
Nothing changes faster than technology, and keeping up with it, even if you are a developer in Silicon Valley, can be daunting. Nearly every new advance in technology has real value for the public and professionals everywhere, and that is especially true for the real estate community. For this reason, the RE/MAX Northern Illinois network hosted Tech Day 2014 on April 24 at K1 Speed in Addison, Illinois.
The daylong event was developed by the RE/MAX Northern Illinois Sales Advisory Council (SAC), a group of RE/MAX agents selected from each office in northern Illinois, which helps organize social, business and educational events within the region.
The event began with a keynote address by John Reyes, CEO of Social NetworX Inc., a leading social marketing and mobile technology training company for real estate professionals. His presentation was followed by a series of workshops, three in which Reyes discussed how to generate more online leads with video, how to become a paperless agent and how brokers could optimize their website to outrank the competition.
Other workshop topics included:

"Tactics and Takeaways to Up Your Social Media Game Today," presented by Susan Koch of Soaring Solutions, LLC.
"10 Apps Every Realtor® Needs" and "Google Glass," presented by Michael Collins of the North Shore – Barrington Association of Realtors®.
"Transaction Management" and "InfoSparks," presented by Carrie Bey of Midwest Real Estate Data, LLC (MRED).
"Tips on Google Basics, Google Tips and Google+," presented by Justin Letheby also from MRED.
"Sharing Your RE/MAX Northern Illinois Real Estate App" and "The RE/MAX Design Center," presented by Amie Fair of RE/MAX Northern Illinois; these workshops focused on how to use just a few of the RE/MAX organization's key technology tools.
"It was an exceptionally productive day," said Broker Associate Melissa Somone-Graham, RE/MAX 1st, Elmhurst and SAC president. "I'm confident everyone left the event feeling they had been exposed to a lot of valuable information and fresh perspectives."
The next SAC event, one of about six that it puts on each year, will be a summer networking cruise aboard the Mystic Blue on June 25. The ship sails from Navy Pier on Chicago's lakefront at 3 p.m. and returns at 5:30 p.m. Along with beautiful views of the city, participants will enjoy networking, a buffet, cocktails, and musical entertainment followed by fireworks at Navy Pier.
RE/MAX has been the leader in the northern Illinois real estate market since 1989. The RE/MAX Northern Illinois network, with headquarters in Elgin, Ill., consists of 2,000 sales associates and 100 individually owned and operated RE/MAX offices that provide a full range of residential and commercial brokerage services. Its http://www.illinoisproperty.com provides comprehensive information about the network and about residential and commercial property for sale in the region. The northern Illinois network is part of RE/MAX, LLC, a global real estate organization with 90,000+ sales associates in 90+ nations.