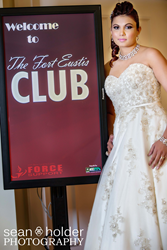 Fort Eustis, VA (PRWEB) May 15, 2014
Show Bride announces its wedding show at the Fort Eustis Club this coming 18th of May, 2014. The show will run from 2:00 pm to 5:00 pm and is conveniently located where couples can celebrate their special day with a bridal fashion show by The Inspired Bride, meet wedding vendors and planners, and enjoy the tasting of delicious and excellent cuisines offered by the club.
The Fort Eustis Clubs is located right on the Warwick River, 7 miles from the Newport News airport off of Highway 64. The Club consists of various small intimate conference lounges and rooms to a large upscale grand ballroom.
Tickets for the show are already available at Showbride.com. Brides, Grooms and guests can buy tickets either online for $5 or at the door for $10. Grooms are admitted free. The first one hundred (100) registrants will receive a Gift Card from symbolizeit.com. The first one hundred (100) brides will receive a mini tote with a $1000 certificate in grocery savings from over 1000 national brand products. The first one one hundred (100) grooms will receive a $1000 certificate in automobile discounts for valuable auto products and services. The first one hundred (100) guests will receive a $1000 certificate in savings from your favorite restaurants.
Those arriving before 2:00pm, are able to meet with Cynthia Roseman from Dreams 2 REALITY LLC on the second floor upstairs (Warwick Ballroom) filled with more possibilities to plan your big day and to see and hear what this wonderful venue has to offer.

A Las Vegas getaway for two nights in a luxury tower of the Riviera Hotel Casino from casablancaexpress.com, with over $500 in discounts from vegasbitecard.com, plus a $100 gift card from restaurant.com.
A Married Name Change Gift Card with free online account from MissNowMrs.com, a premier web service for brides to simplify changing your last name process.
Two Weddings Bands! You can choose any style in the Tungsten Carbide Timeless Collection from JVL Jewelry. Many sizes to choose from! Special sizes are available upon request.
For more information on the Bridal and Wedding Show, visit http://showbride.com/show.html?show.id=3688. Show Bride has several wedding and bridal shows planned throughout the year and encourage Brides, Grooms and guests to plan attendance at these shows if unable to attend on the 18th. For directions to the Fort Eustis club call (757) 354-2211.