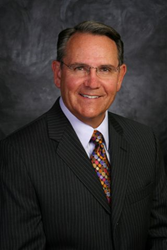 Los Angeles, Calif. (PRWEB) May 14, 2014
Woodbury University has announced its School of Business is among 12 international and four American business schools to earn accreditation from AACSB International for 2014, joining 713 institutions of higher learning in 47 countries and territories around the world who have successfully completed the multi-year internal review, evaluation and improvement process. AACSB accreditation represents the highest achievement for an educational institution that awards business degrees, a status conferred on less than 5 percent of all business programs worldwide.
"AACSB accreditation is the hallmark of excellence in business education and is earned by less than five percent of the world's business schools," said Woodbury University President Luís Ma. R. Calingo, Ph.D., who announced the high honor during commencement ceremonies on May 10. "It affirms that Woodbury University's School of Business, faculty and programs meet a specific set of standards of excellence and that the education we provide our business students is among the best anywhere. Kudos to School of Business dean André van Niekerk and the entire faculty and staff for their outstanding efforts in achieving this recognition."
"At Woodbury, our mission is to cultivate the distinctive talents of each student to prepare future leaders of business who communicate effectively, act ethically and think globally," said van Niekerk. "The Woodbury model of values-based and ethically driven business education is based on building lifelong relationships and networks which will aid our students' future success and provide the tools to be an effective and valued member of society. The accreditation process played a significant role in helping us understand how to apply our mission to today's global business environment."
Achieving accreditation is a process of rigorous internal review, evaluation, and improvement, and can take multiple years to complete. During these years, the school develops and implements a plan to meet AACSB's Accreditation Standards which require a high quality teaching environment, innovative programming, and active engagement with industry. All accredited schools are required to go through a peer review process every five years to retain their accreditation.
Woodbury University was founded to respond to the emerging needs of a thriving business community in Los Angeles. Meeting the business education needs of today's diverse economy in this market remains the focus of the School of Business. Operating from a new, state-of-the-art building, the School offers two degrees: an undergraduate BBA (Bachelors in Business Administration) and the MBA (Masters in Business Administration).
Courses are taught by expert faculty who understand the importance of balancing theory and practice in their teaching. The average class size is 16 students. The BBA degree has a clear Management focus and students can also major in Accounting, Marketing or Fashion Marketing. The MBA takes students on a deeper educational journey and courses are available in evening or weekend formats to accommodate the working student.
About AACSB International
AACSB International (The Association to Advance Collegiate Schools of Business), founded in 1916, is an association of more than 1,400 educational institutions, businesses, and other organizations in 88 countries and territories. AACSB's mission is to advance quality management education worldwide through accreditation, thought leadership, and value-added services. As the premier accreditation body for institutions offering undergraduate, master's, and doctorate degrees in business and accounting, the association also conducts a wide array of conferences and seminar programs at locations throughout the world. AACSB's global headquarters is located in Tampa, Florida, USA and its Asia Pacific headquarters is located in Singapore. For more information, please visit: http://www.aacsb.edu.
About Woodbury University
Founded in 1884, Woodbury University is one of the oldest institutions of higher education in Southern California. Woodbury offers bachelor's degrees from the School of Architecture, School of Business, School of Media, Culture & Design, and Institute of Transdisciplinary Studies, along with an MBA program, Master of Architecture (MArch), Master of Science in Architecture (MSArch), and Master of Organizational Leadership. The San Diego campus offers Bachelor of Architecture, Master of Real Estate Development for Architects (MRED), and Master of Science in Architecture, Landscape, and Urbanism degrees. Visit http://www.woodbury.edu for more information, and Reflections on Excellence, a twice-monthly blog written by Woodbury University President Luis Maria R. Calingo, Ph.D.