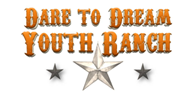 This is a dream come true for many of us here at The Ranch.
Fort Wayne, IN (PRWEB) May 14, 2014
Dare to Dream Youth Ranch announced the completion of construction on an Americans With Disability Act (ADA)-Compliant wheelchair ramp and loading platform to assist disabled children in mounting horses. A ramp and platform of this size is unprecedented in the area.
Lisa Savino, Special Needs Coordinator for Dare to Dream Youth Ranch says, "The ramp and platform are huge and very sturdy, which is very important when you're working with disabled children and helping them onto the horses—this is a dream come true for many of us here at The Ranch."
In addition to assisting children with disabilities, the ramp will serve as the loading platform for all children who ride at The Ranch. The wheelchair approach ramp length totals more than 40 feet, and the main platform spans 20 feet wide by 14 feet deep to serve as a loading deck and also as an observation deck for staff and observers of the riders. The ramp is also covered to provide shade on hot riding days.
The completion of the ramp and platform will coincide with The Ranch's Spring Open House, Saturday, May 17, 2014, from 10:00 a.m. to 3:00 p.m. The media are invited and encouraged to attend, as many who worked on the project will be in attendance and available for interviews.
"Without the help of our corporate sponsors, Zumbrun Construction, Carter Lumber, First Source Bank and ramp designer, Jeff Hempton from The Pointe Church, this ramp and platform would not have been possible. But we came to them with a vision and a plan and, thanks to them, it's now become a most amazing reality," said Jim Buck, Communications Director at Dare to Dream Youth Ranch.
Jennifer Andrew, Horse Trainer at Dare to Dream Youth Ranch, agrees. "By providing ranch experiences made possible by the platform, we can fulfill our mission to encourage the child, heal the horses, build the family and spread the message of hope. This ramp is a great example of what can happen when we join forces, collaborate together and help children reach their fullest potential."
About Dare to Dream Youth Ranch
Dare to Dream Youth Ranch serves Fort Wayne and the surrounding area by offering children the opportunity to experience a horse ranch, learning the values of integrity, leadership and compassion, through hard work, cooperation and caring for horses in a supervised and supportive environment. The ranch rescues and rehabilitates abused and neglected horses and integrates them into the ranch program. http://www.daretodreamyouthranch.org