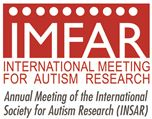 Atlanta, GA (PRWEB) May 14, 2014
The International Society for Autism Research (INSAR), a scientific and professional organization devoted to advancing knowledge about autism spectrum disorders, convened more than 1700 researchers, delegates, autism specialists and students from 40 countries for the 13th Annual International Meeting for Autism Research (IMFAR), the world's largest scientific gathering on autism research, from May 15 through May 17 at the Atlanta Marriott Marquis in Atlanta, GA.
Researchers and clinicians exchanged and disseminated the latest scientific findings and stimulated progress in autism research into the nature, causes and treatments for ASD during a series of scientific and educational panels, oral sessions and poster presentations. The meeting also featured demonstrations of innovative technologies and events designed for stakeholders and special interest groups.
Abstracts and the IMFAR program book can be viewed at https://imfar.confex.com/imfar/2014/webprogram/start.html.
"As the scientific investigation of ASD continues to advance at a remarkable pace, IMFAR has become an essential and exciting forum for researchers and clinicians to share findings with each other and the broader autism community," said Francesca Happé, PhD, president of INSAR. "It is impossible to attend IMFAR and not be inspired and energized by what we are learning from our colleagues, as well as our stakeholders."
"The research presented at this year's IMFAR is incredibly promising as we are translating scientific discoveries into clinical programs that make a difference in our ability to diagnose and treat autism from infancy to adulthood," said Laura Klinger, PhD, co-chair of the IMFAR Scientific Program Committee. "For example, we will be discussing ways to detect symptoms of autism as early as two months of age and the importance of treating anxiety and depression among adults with ASD. The global reach of this conference, with researchers from Atlanta to Addis Ababa presenting and sharing ideas to better serve individuals with ASD and their families worldwide, is particularly inspiring."
"I can't think of a more dynamic area of scientific endeavor than the field of autism research, which, as this meeting demonstrates, has attracted many of the most impressive scientific minds to the cause of helping people with autism, including some impressive, young researchers," said Joseph Piven, MD, co-chair of the IMFAR Scientific Program Committee. "IMFAR provides a critical opportunity for dialogue and fosters a spirit of collaboration among the full array of scientists focused on ASD research."
Keynote speakers at IMFAR were: John Colombo, PhD, Director, Schiefelbusch Institute for Life Span Studies and professor of psychology, University of Kansas on The Development of Attention: Implications for Early Identification; Marsha R. Mailick, PhD, director of the Waisman Center at the University of Wisconsin-Madison (UW-Madison) on Adolescents and Adults with ASD and their Families: Life Course Development and Bi-Directional Effects; and Declan Murphy, the Mortimer D Sackler Professor of Translational Neurodevelopment, and Director of the Sackler Institute of Translational Neurodevelopment, Institute of Psychiatry (IOP), King's College London on Why Are There So Few Effective Treatments for Autism – and Can Translational Neuroscience Help?
The INSAR Lifetime Achievement Award, which acknowledges an individual who has made significant fundamental contributions to research on ASD that have had a lasting impact on the field, was presented to Fred Volkmar, MD, director of the Yale University Child Study Center. The INSAR Advocate Award, which honors community members/advocates who have influenced the ability to carry out autism research, was presented to Peter Bell, president and CEO of Eden Autism Services. The winners of two Slifka / Ritvo Innovation in Autism Research Awards, funded by the Alan B. Slifka Foundation to promote innovative research on autism spectrum disorders conducted by junior investigators, were also announced at the awards ceremony.
ABOUT INSAR AND IMFAR
The International Society for Autism Research (INSAR) is a scientific and professional organization devoted to advancing knowledge about autism spectrum disorders. INSAR was formed in 2001 and is governed by an elected, volunteer Board of Directors that oversees all functions of the Society.
The International Meeting for Autism Research (IMFAR) is an annual scientific meeting, convened each spring, to exchange and disseminate new scientific progress among ASD scientists and their trainees from around the world. The first and primary aim of the meeting is to promote exchange and dissemination of the latest scientific findings and to stimulate research progress in understanding the nature, causes, and treatments for ASD. Research on ASD involves sophisticated behavioral and biological approaches. ASD affects people's functioning in virtually every domain, requiring interdisciplinary research collaboration to gain comprehensive knowledge of the disorder.
# # #