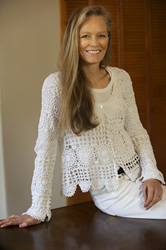 Grades of Green is honoring Jon Landau, Suzy Amis Cameron and Earth Friendly Products for their dedicated work to preserve and protect the environment.
Manhattan Beach, CA (PRWEB) May 14, 2014
Grades of Green, an environmental education nonprofit, is pleased to announce this year's Environmental Advocacy Honorees: Avatar and Titanic producer Jon Landau; educational and environmental advocate Suzy Amis Cameron; and corporate honoree Earth Friendly Products. The honorees will be recognized at Verte 2014, the annual benefit for Grades of Green on Friday, June 6th, at 6:30 pm at the MBS Media Campus in Manhattan Beach, CA. The environmentally-inspired evening will be hosted by John Ireland, ESPN710 host and the radio voice for the Los Angeles Lakers.
"Whether they are creating inspirational films like Avatar and ensuring the production is carbon neutral, or founding schools focused on environmental education and the arts, Jon and Suzy bring a tremendous amount of energy and passion for protecting the earth," said Kimberly Lewand Martin, a co-founder of Grades of Green. "And we really admire how Earth Friendly Products make it easier for all of us to live sustainably in our everyday lives. All three are terrific role models for the children we strive to inspire and empower – showing young people that you can simultaneously live your dreams and love the planet."
Verte 2014 is Grades of Green's annual celebration and benefit, to be held this year at MBS Media Campus, a leading green studio facility. MBS Media Campus has been chosen as the home studio for the three upcoming Avatar films, the production of which will be carbon neutral, thanks to solar panels installed at the Campus.
Grades of Green is honoring Jon Landau, Suzy Amis Cameron and Earth Friendly Products for their dedicated work to preserve and protect the environment. The event will be zero-waste, thanks to food composting and recycling by Waste Management. The event will feature eco cuisine and cocktails, including passed appetizers from the world famous Chef David LeFevre, from Hell's Kitchen and currently of MB Post and Fishing with Dynamite, plus a variety of tasty dishes from local restaurants such as Palmilla Cocina y Tequila, The Strand House, and Zinc at Shade Hotel, Ripe Choice, Santa Monica Seafood, Fresh Brothers and GROW.
Eco-cocktails, courtesy of Patron, include an interactive margarita bar that guests can pedal-blend themselves on the Fender Blender! Eco-friendly wines from Frei Brothers Reserve Wines and Le Marca Proseco, as well as craft beer from Left Coast Brewery, will be served along with delicious organic juices from Lemonade. Later in the evening, sweet treats will be provided by Bristol Farms, Santa Monica and SusieCakes along with an espresso bar hosted by The Coffee Bean & Tea Leaf.
Event and program sponsors include Jeff Neu and Michelle Olenick; Wells Fargo Bank; The City of Manhattan Beach; Chevron; Earth Friendly Products; Gensler; Waste Management; Republic Services; Newmark Grubb Knight Frank, Lisa and David Wehrly; Clean Energy Renewable Fuel; LAcarGUY; Manatt, Phelps & Phillips; Longo-Toyota-Scion-Lexus; Cindy and David Hoag; Nadine Kirkpatrick, and Verengo Solar.
To purchase tickets for, or learn more about Verte 2014, visit Verte2014.
Suzy Amis Cameron
Suzy Amis Cameron is an education and environmental advocate whose passion is to "inspire and prepare young people to live consciously with themselves, one another, and the planet." Her passion isn't only her life motto, but it is also the mission of the school, MUSE School CA, she co-founded with her sister, Rebecca Amis, in 2006. MUSE is a place where children not only go to learn academics, but also are able to explore the arts with a creative freedom and teaches the responsibility of respecting one another and the Earth. Suzy has not only inspired and empowered kids to care for the environment; she has also taken on Hollywood. As a fundraiser for scholarships at MUSE, Suzy founded Red Carpet Green Dress, which combines the worlds of fashion and sustainability by challenging designers from around the world to create a gown made entirely of sustainable materials with the winning design worn on the red carpet at the Academy Awards by a surprise Hollywood actress.
Jon Landau
Jon Landau is an Academy Award and two-time Golden Globe winning producer who has produced the two highest grossing films of all-time – Avatar and Titanic. He is at the forefront of promoting sustainable practices, including choosing MBS Media Campus to film the three Avatar sequels. In order to make the productions carbon neutral, the producers installed solar panels that cover the roofs of 10 of the 15 sound stages at MBS Media Campus, generating enough electricity to power the upcoming Avatar productions.
Earth Friendly Products
A family-owned business since the early 1950s, Earth Friendly Products (EFP) is the world's largest manufacturer of green cleaning products, including ECOS laundry soap, the top-selling green laundry product. In fact, they were the first cleaning product company to eliminate toxins, added salts, formaldehyde and numerous chemicals from their products. Earth Friendly Products are environmentally responsible, work effectively and provide value – which make them a favorite for families striving to be cleaner and greener in their homes. Their commitment to a toxin-free earth has earned them accolades from the U.S. Environmental Protection Agency for creating effective cleaning products that are readily biodegradable, non-toxic, phosphate-free and with a neutral pH.
About Grades of Green
Based in Manhattan Beach, CA, Grades of Green is an international environmental education non-profit dedicated to making environmental protection second nature in young minds. The program provides parents, students and educators with the tools to inspire and empower K–12 school communities to care for the environment. A recipient of the U.S. EPA's coveted Environmental Award, Grades of Green currently is inspiring and empowering more than 150,000 students enrolled across 36 states and 5 countries to care for the environment. For details, visit http://www.gradesofgreen.org.