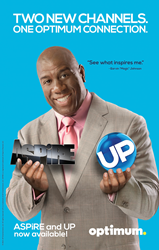 We are pleased to announce the additions of UP and ASPiRE, two high-quality, family-friendly networks that further enhance the diversity and value of our Optimum TV lineup.
Bethpage, NY (PRWEB) May 14, 2014
Cablevision Systems Corp. (NYSE: CVC) today announced the addition of two networks to its Optimum TV lineup -- UP, the television network dedicated to uplifting viewers every day and Earvin "Magic" Johnson's ASPiRE, the network that celebrates the breadth and depth of the Black experience and is the entertainment destination for African-Americans and their families. With this launch, Cablevision is the only provider of ASPiRE within its Tri-State area footprint.
The launch of UP and ASPiRE on Optimum TV will be supported with a high-profile, four-week marketing campaign featuring Earvin "Magic" Johnson. The campaign, which launches on May 19th, will include out-of-home media, with transit advertising on Long Island Railroad, Metro North trains and New York City subways, custom cross-channel spots, social media, email blasts and a radio partnership with WBLS-FM and K-LOVE.
UP is a 24-hour television network that provides fresh, contemporary and uplifting family-friendly entertainment that the entire family can enjoy together, including original movies, reality shows, series and music that positively impact people's lives.
ASPiRE, the network from Magic Johnson Enterprises, provides high-quality programming that delivers enlightening, entertaining and positive programming to African-Americans. Launched in June 2012, the network has successfully premiered four original series that celebrate the groundbreaking achievements of African-Americans. In addition, the network's programming offers a mix of movies, music, sports and lifestyle programming, talk shows, documentaries and sitcoms that provide a platform for the next generation of African-American voices and visionaries.
"We are pleased to announce the additions of UP and ASPiRE, two high-quality, family-friendly networks that further enhance the diversity and value of our Optimum TV lineup," said Bradley Feldman, senior vice president, product management, Cablevision. "Additionally, as the only provider of ASPiRE within the Cablevision service area, our customers will have the benefit of being the first in their neighborhoods with access to ASPiRE's unique and uplifting entertainment that focuses on celebrating the African-American culture."
Charley Humbard, UP president and CEO, said, "The launch of UP by Cablevision is a major milestone for our network as it marks the completion of our distribution in every major market in the U.S. and brings our subscriber base to nearly 70 million households. We are extremely proud to be a part of Optimum TV and look forward to providing their customers with our diverse slate of always uplifting, family-friendly entertainment."
Earvin Johnson, ASPiRE Chairman and CEO, said, "ASPiRE has made tremendous strides since its launch, and being added to the Optimum TV lineup is the latest milestone in our rapid expansion to 20 million households and growing. We are proud to provide our great line-up of positive programming with original series, movies and sports to the Optimum TV viewers in New York, New Jersey and Connecticut."
UP recently announced that it will premiere 30 new original and premiere movies and four series for the second half of 2014 and 2015. The network's recent "Easter Lives Here" programming celebration culminated with the UP Original Movie Apple Mortgage Cake, starring Kimberly Elise (Diary of a Mad Black Woman) which was a tremendous success, setting new primetime ratings records for the network.
Upcoming UP Original and Premiere Movies and their casts include, My Mother's Future Husband starring Lea Thompson (Back to the Future, "Caroline in the City") and Matreya Fedor ("Cedar Cove," "Mr. Young") premiering Sunday, May 11 at 7 p.m. EDT; Love Finds You in Sugarcreek starring Tom Everett Scott (That Thing You Do!, "Southland"), Sarah Lancaster ("Chuck," "Everwood") and Golden Globe® and BAFTA-nominated actress Kelly McGillis (Witness, Top Gun) premiering Sunday, June 1 at 7 p.m. EDT; My Dad's a Soccer Mom starring Lester Speight ("My Wife and Kids"), Wendy Raquel Robinson ("The Game"), Tracey Gold ("Growing Pains"), Skai Jackson ("Jessie," "Bubble Guppies") and six-time NFL Pro Bowler Terrell "T.O." Owens ("Necessary Roughness") premiering Saturday, June 21 at 7 p.m. EDT and the 2013 UP Faith & Family Screenplay Competition winner at the American Black Film Festival (ABFF) Comeback Dad starring Charles S. Dutton ("Roc"), Loretta Devine (UP's Saving Westbrook High, "Grey's Anatomy") and Tatyana Ali ("The Fresh Prince of Bel-Air") premiering on Saturday, July 12 at 7 p.m. EDT.
ASPiRE recently premiered an all-new season of its highly popular talk show "exhale." Hosted by five dynamic, successful African-American women – journalist and media maven Angela Burt-Murray; actress and comedian Erin Jackson; director, writer and actress Issa Rae; blogger, author and TV anchor Rene Syler; and actress Malinda Williams – "exhale" brings viewers honest, funny and candid discussion on a wide range of topics affecting African-American women. The series runs Wednesdays at 8 p.m. EDT.
Other ASPiRE original programming includes clean, stand-up comedy series "Laff Mobb's We Got Next," "ABFF Independent" and "THE ROOT 100," which explores the lives and groundbreaking accomplishments of dynamic African-American men and women. In addition, ASPiRE will present Historically Black Colleges and Universities (HBCU) live sports events and related series, including six football games, 12 men's and women's basketball games and a new season of the sports highlights show "Inside The Game."
Optimum customers can find UP on channel 175 and ASPiRE on channel 176. UP will be available to customers with the Optimum Preferred package and above, while ASPiRE will be available to Optimum Economy and Optimum Value customers and above. Optimum TV residential customers who receive UP and ASPiRE as part of their package can also watch the networks anywhere inside the home with the Optimum App, which is available from the App Store for their iPad, iPhone or IPod touch, Google Play for Android phones and tablets, or Amazon Marketplace for Kindle devices.
Cablevision's award-winning digital cable service, Optimum TV, offers customers access to hundreds of channels, including more than 80 premium movie channels, 50 channels of commercial-free digital music, tens of thousands of titles available on demand at all times, an interactive programming guide, more than 150 high-definition channels and uniquely valuable and relevant local content through News 12, MSG Varsity and their companion interactive television applications.
About UP
UP, America's favorite network for uplifting entertainment is a 24-hour television network that provides high-quality, diverse, family-friendly programming, including original and premiere movies, theatricals, drama and comedy series, music and holiday specials. UP can be seen in 67 million homes in high definition (HD) and standard definition (SD). As part of its mission to entertain and uplift, the network's pro-social initiative "Uplift Someone" reminds and inspires people to do simple acts of kindness. UP is also a service provider to its sister network ASPiRE. Based in Atlanta, UP is a division of UP Entertainment, LLC, which also offers gMovies, the first faith-friendly streaming movie service. Follow UP on the Web at http://www.UPtv.com, on Facebook at https://www.facebook.com/UPtv, Twitter on @UPtv and Instagram at UP_TV.
About ASPiRE
ASPiRE is a television network that celebrates the groundbreaking achievements of African-Americans. ASPiRE offers a diverse programming mix of movies, series and specials featuring music, comedy, drama, faith/inspiration, theater/performing arts, lifestyle and news/information. The network was launched June 27, 2012 by Magic Johnson Enterprises, which acts as a catalyst for driving unparalleled business results for its partners and fosters community/economic empowerment by making available high-quality entertainment, products and services that answer the demands of ethnically diverse urban communities. ASPiRE is available in about 20 million homes in 21 of the top 25 African-American markets including New York City, Los Angeles, Atlanta, Chicago and Washington, D.C.. For more information, visit http://www.aspire.tv, facebook.com/aspireTV and on Twitter @tvaspire.
About Cablevision
Cablevision Systems Corporation (NYSE: CVC) is a leading media and telecommunications company, serving millions of households and businesses throughout the greater New York area. Providing quality products that keep customers connected, Cablevision offers Optimum-branded digital cable television, high-speed Internet and phone services as well as Optimum WiFi, the nation's most robust wireless Internet network. Cablevision's Lightpath subsidiary is a premier provider of integrated business communications solutions for larger companies. Through its local media and programming properties – News 12 Networks, Newsday Media Group and MSG Varsity – Cablevision also delivers news and information created specifically for the communities it serves. Additional information about Cablevision is available at http://www.cablevision.com.