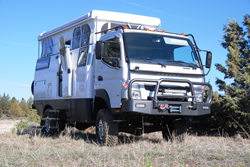 American outdoor enthusiasts are asking for much more than just a camper stuck onto the back of a four wheel drive truck
Flagstaff, AZ (PRWEB) May 15, 2014
Adventure travel continues to gain in popularity across North America. These travelers carry backpacks instead of suitcases. They prefer mounting GoPro video cameras to their bikes and kayaks instead of a camera hanging around their neck. They have no interest in ever being stuck in an amusement park line, and would much rather cast a line into a remote trout stream.
This week, adventurous outdoor enthusiasts and the companies who supply products to this active population will gather in Flagstaff, AZ for the 2014 Overland Expo. Overland Expo is an international event that educates and inspires people to get out and explore the world, by bike and vehicle. One exhibit that has been anticipated by expo attendees is the first public showing of the new American-Made EarthCruiser.
The EarthCruiser is a self-contained; all-terrain expedition RV built on the U.S. FUSO 4x4 off-road chassis. Described as the ultimate in back-country camping practicality, the vehicle has been designed and tested for years in Australia and is now being manufactured in Bend, OR. It's an easy to drive vehicle with a low center of gravity, impressive approach and departure angles, and nimble maneuverability that most don't expect from such a completely self-reliant exploration vehicle. Its specially designed soft ride/hard road suspension kit and super-single tires are capable of making long-distance desert crossings or covering miles of challenging rock-covered mountain trails with ease.
"American outdoor enthusiasts are asking for much more than just a camper stuck onto the back of a four wheel drive truck," said Lance Gillies, executive of EarthCruiser. "This is a serious expedition vehicle that has been recognized around the globe for engineering and design features that provide safe, exceptional comfort, and capable travel."
The company recently expanded their U.S. EarthCruiser production facility and sales office, located in Bend, Oregon.
"Part of our challenge has been to inform the U.S. market that a vehicle like this exists," Gillies explained. "The amazing places to visit and sights to see right here in America's back yard are some of the most beautiful in the world. We now offer an American-Made vehicle that has been created specifically for traveling and enjoying the outdoors."
At any given time, there are a few dozen EarthCruiser vehicles and their owners traveling remote corners of the globe. Current international owners of the EarthCruiser include wildlife photographers, hunters, fishermen, mountain bikers, and other extreme adventure seekers. The vehicle is also in demand by eco and volunteer travelers who do everything from delivering medical supplies to remote villages, repairing endangered reefs, and a wide variety of outreach programs all over the globe.
At the end of each traveling day, EarthCruiser can provide a hot shower, a cold drink from the fridge, and a comfortable bed. Some other features include solar panels on the roof, and an EPA approved water filtration system, and ample gear storage compartments.