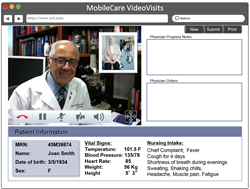 Video visits can help HDOs reduce costs and enable a more rapid and effective delivery of care to patients in isolated locations.
Silicon Valley (PRWEB) May 15, 2014
AGNITY Healthcare (AHI), a leading provider of Integrated Clinical Communications for healthcare providers, today announced the addition of VideoVisits™ as a part of its integrated clinical communications solution, APTUS MobileCare™.
APTUS MobileCare™ is a secure patient-centric contextual messaging and communications solution for care teams. MobileCare provides clinical communications workflow benefits to the patient's care team from the time the patient enters a hospital through post discharge.
VideoVisits™ is an extension of APTUS MobileCare™ that enables healthcare organizations to extend care to post discharge and remote patients, or high risk populations through live HD Video and IM chat consultation. During the video visit, the consulting clinician is equipped with real-time access to patient notes, patient information from Hospital IT systems, and an option to consult with other specialists if required. VideoVisits also supports a whiteboard functionality whereby doctors can order prescriptions or diagnostic tests, if needed. This synergy of rich media communication, comprehensive patient information, and powerful collaboration options during a consultation empowers physicians to make quick medical decisions for patient care, wherever they may be. This is especially beneficial for patients needing post discharge or remote care, as they are able to receive specialist consultations on smart mobile devices or PCs, without having to undertake expensive and time-consuming travel.
According to Gartner's July 18, 2013 report, Hype Cycle for Telemedicine, 2013, "Video visits can reduce travel time and costs for patients and clinicians, and can help healthcare delivery organizations (HDOs) make better use of clinicians' time. Moreover, they can help HDOs reduce costs and enable a more rapid and effective delivery of care to patients in isolated locations."
"I agree with Gartner's view on the industry, and feel VideoVisits addresses that need," says Ken Epps, President & CEO AHI. "It's simple and easy to use for providers and patients. It provides benefits for health systems, ACOs, physician groups and payers alike, as value is provided across the patient care continuum, addressing a key healthcare concern. We are excited about the demand we are getting."
APTUS MobileCare™ is an award-winning solution that improves clinical communications workflow among clinicians in the patients' circle of care. The solution is improving the state of clinical communications & collaboration across the US and Asia.
About AGNITY Healthcare
AGNITY Healthcare is a leading provider of communications technologies and services that harness the power of mobility and the Internet to improve clinical communications and the quality of healthcare. AGNITY Healthcare solutions deliver the freedom of healthcare on demand by connecting patients, doctors, payers and hospitals anytime, anywhere. By helping healthcare scale to reduce costs, expand capacity, and improve productivity of healthcare delivery, AGNITY Healthcare helps improve patient care and the patient-provider relationship.
For more information, visit http://www.agnityhealthcare.com
AGNITY Healthcare contact:
Media Relations Team
media_relations(at)agnity(dot)com
(510) 270-5412
AGNITY HealthCare®, the AGNITY HealthCare® logo, APTUS™, MobileCare™, VideoVisits™ and combinations thereof are trademarks of AGNITY, Inc. in the United States and other countries. Other names, logos, brands, and trademarks listed or referred to are the property of their respective trademark holders. The trademark holders are not affiliated with AGNITY HealthCare, Inc. and do not sponsor or endorse these materials or its products. All rights reserved.