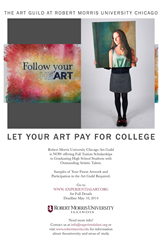 The Robert Morris Art Guild provides student artists with studio space, materials and instruction so they may further develop their artistic talents while in college.
Chicago, Illinois (PRWEB) May 14, 2014
Robert Morris University Chicago Art Guild is now offering full tuition scholarships to graduating high school students with outstanding artistic talent.
What is the Art Guild? It is a team of student artists who will be provided an artistic coach, studio space on campus, and art supplies to develop their work on a weekly basis. They will participate in monthly critiques, field trips to galleries and professional artists' studios, and yearly exhibitions of their work. They will ultimately be working toward exploring their own artistic style and completing a full body of work suitable for a gallery exhibition.
As a part of the Art Guild, students will receive a full 4-quarter per year tuition scholarship. Students may study any major offered at RMU while being a part of the Art Guild where they will further their creative skills. All they need to do is complete the application form and upload 7-10 samples of their finest artwork at http://www.experientialart.org. Qualifying students will then be selected to present their artwork in person at the campus nearest them. If selected, they will need to apply and be accepted to RMU before receiving the award.
Placement in the Art Guild is very limited, and the deadline is quickly approaching. The application is due June 15, 2014.
http://www.EXPERIENTIALART.ORG
Visit http://www.robertmorris.edu for information regarding the university and its areas of study. Robert Morris University Illinois is a not-for-profit, baccalaureate and graduate degree granting institution, accredited by the Higher Learning Commission of the North Central Association of Colleges and Schools.* The University serves over 6500 students interested in getting an education in business, graphic arts, nursing and health care, culinary and computer studies at its main campus in Chicago, as well as at locations in Arlington Heights, DuPage, Elgin, Orland Park, Bensenville, Springfield, Peoria, Schaumburg and Lake County. For more information, call 800-RMC-5960 or visit the web site at http://www.robertmorris.edu.
*Higher Learning Commission of the North Central Association of Colleges and Schools, 30 N. LaSalle Street, Chicago, IL 60602, 312-263-0456.