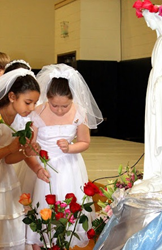 "Loved, loved, loved it!" said Mrs. Jennifer Bohren from Orland Park, IL. "I don't think there was a dry eye in the house....So much fun!"
(PRWEB) May 14, 2014
Students at Everest Academy of Lemont conveyed love and gratitude to their mothers during their Mother's Day Tribute held Friday morning in celebration of Mother's Day, a celebration that has become an Everest tradition that both moms and children look forward to each year. The morning began with Mass, followed by a Mother's Social, Recognition of First Communicants, Crowning of Our Blessed Mother Mary and then concluded with a beautiful musical tribute to mothers that brought tears to many eyes.
Colorfully decorated and with flowers galore, Everest Academy brought together women who are connected by the role of motherhood and its universal language of love. Ms. Christine Gamache, principal of Everest Academy, spoke about the role of motherhood, saying, "The words love and mother can be thought of as the same since you cannot think about one without the other. If we think of love we think of mother. Just as our mother Mary brought love into the world through her son Jesus, you (Mothers) continue to bring to life the love of God into the world through your actions, words and love of your family." Ms. Gamache also shared many beautiful quotes from the students who were asked what makes their mom so special to them. Among the favorites were, "Mom loves me and cares for me," "She loves me with a love that is never going to end," and "She's a gift from God."
The theme of love was reflected in the songs chosen for the students to perform. The three year old prekindergarten students filled the stage first and sang from the top of their lungs, "Mommy, Mommy I Love You!" The four year old prekindergarten students joined them as they all sang about a mother's never-ending love. The presentation concluded with the entire student body on stage joyfully singing the slow and melodic "In a Mother's Heart" followed by the lively and catchy "Everybody."
Mothers of all ages found themselves tapping their toes, humming along and drying their eyes, sincerely appreciative of the morning being held in their honor. "Loved, Loved, Loved it!! Mr. Landowski is a treasure. My heart is still smiling... I don't think there was a dry eye in the house …..So much fun," commented Mrs. Jennifer Bohren an Everest mom from Orland Park.
Mr. Greg Landowski, the musical director at Everest Academy, is credited with instilling the students with a true love of music, the joy of singing and the love of performing. He chose the two very different songs for the entire student body to learn and perform, acknowledging the large amount of lyrics the younger students mastered. "The children were excited about being able to perform for their parents. It is special when the whole school performs and the music brings everyone together. We had many different levels of students coming together to perform for the Mother's Day Tribute; it was remarkable for little ones to catch up with big ones!"
Mr. Landowski spends 40 minutes twice a week helping the students develop their musical ear through the use of vocal warm up exercises and various other methods including instrumentation. He directs the children to be aware of their voice; to listen and think about the sound that they are projecting. This skill was mastered and displayed at the Mother's Day Tribute when at the end of the final song, the subito piano and sottovoce (suddenly softer singing and quiet undertones), really captured the attention and hearts of the audience.
Everest Academy is an independent Roman Catholic school in Lemont educating children from pre-kindergarten through eighth grade. The teachers and staff are dedicated to forming the whole child by providing the highest level of academics, by building strong character, and by preparing generous leaders ready to serve the community. To learn more about Everest Academy's approach to education, please contact KC Wollenberg at 630-243-1995 or visit http://www.everestadvantage.org.