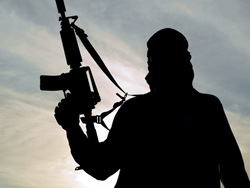 You must understand that to survive one kidnapping does not mean that there will not be other attempts.
New York, New York (PRWEB) May 14, 2014
Like many other villages and towns in Nigeria, the Borno State is populated with children who know what it is to be surrounded by violence, death and destruction. When trauma is a standard and typical aspect of life, people within that community strive to create normalcy. The mass kidnapping of teen girls leave their parents screaming out for their girls' to be released. Yet, while they are yet to be found and rescued, in Borno State commerce continues from daybreak to darkness, when threats of danger send everyone home.
50 girls ran away from their abductors and survived. How did they survive? Here are 5 tools they used to escape:
1. Did not panic: They acted fast without allowing their fear to act as an impediment to their survival.
2. Assess with Assertion: Know the outcome of life if they don't escape: For many who survive a violent attack life back in the village is filled with degradation, humiliation and no hope of marriage or a job.
3. Do not despair: When in the throes of despair, hope and clear thinking is compromised
4. Sensorial Observation: Use all the senses track the time, place and emotional and mental states of the abductors
5. Maintain Self Control: Breathing, imagining a different outcome, and acting fast is better than no action at all
Nathan states, "The girls who escaped know nothing of life without events that include rape, bodies pummeled with bullets and disappearances of family members never to be found." Just 3 months prior to their abduction, 59 boys were killed in the nearby State of Yobe. Nathan believes that life for any teenager in Borno State is "A potent mixture of untold massacres, survival, apathy and the hunger for justice. You must understand that to survive one kidnapping does not mean that there will not be other attempts. You are in an emotional arena of constant alert. Grief is all around them. From Survivor's Grief to being stuck in any of the phases, especially a numbness that sets in and does not leave."
What is learned from the 50 who escaped are essential lessons in surviving any trauma that focuses on abduction or a loss of control.
About Edy Nathan MA, LCSW:
As a New York City psychotherapist in private practice, Edy has developed a form of therapy that dynamically integrates psychotherapy and spirituality in her work with grief, trauma and loss. She works with individuals and groups
She is certified in hypnotherapy and EMDR. She has post -graduate training in Family Therapy, Jungian Dream Work and Psychodrama. On the more spiritual side, she has trained with renowned Past Life Regressionist, Dr. Brian Weiss and well-known Shaman, Dr. Hank Wesselman. She creates journeys for her clients that inspire them to find the answers they hold within.
Her experience in radio includes guest spots on WOR, a New York based radio station, Hay House and Sirius. She was most recently heard on former New York Governors', David Patterson show on WOR where she discussed psycho-therapeutic perspectives on current events.
Edy writes articles that are sent out twice a month covering topics about loss, grief, relationships and the way in which current events affect emotions. Her writing can also be seen in the Boston Globe, The LA Daily News, The NASW News where she was featured in May 2014 and The Miami Herald.