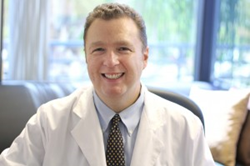 Once vision is lost from glaucoma, it cannot be restored, so annual eye exams are very important.
San Diego, CA (PRWEB) May 14, 2014
A study released by the American Academy of Ophthalmology gave new information on the status of glaucoma in the United States, including how approximately half of those affected by the potentially blinding disease aren't even aware that they have it. Asymptomatic in its early stages, glaucoma is estimated to affect 2.7 million Americans over the age of 40. The key to slowing the progression of the disease lies in simple and effective treatment methods.
"Eye exams are useful for a variety of reasons," says Michael Tracy, MD, of Carlsbad Eye Care, "and they are extremely effective in allowing ophthalmologists to identify glaucoma in its early stages. Through annual eye exams, we are able to monitor changes in the optic nerve and provide patients with the treatment they need to prevent vision loss."
Glaucoma occurs when fluid inside of the eye, called the aqueous humor, is not adequately regulated by flowing in and out of the eye. Pressure can build inside the eye, eventually damaging optic nerve fibers if not treated. In the early stages of glaucoma, patients experience no symptoms, leading many patients to mistakenly believe that their eyes are fine.
If treatment is not provided in the early stages of glaucoma, patients can gradually lose their peripheral vision. Over time, patients may eventually go blind. The vision loss from glaucoma is permanent. Fortunately, however, vision loss due to glaucoma can be avoided through early detection and treatment.
"Some people are at a greater risk of developing glaucoma than others. Older individuals and people with a family history of the disease are at a higher risk of developing the disease," says Dr. Tracy. "Many patients have clear risk factors for glaucoma, yet don't seek treatment because they don't experience any symptoms. For anyone over the age of 40, an annual eye exam is recommended, especially if they have family members with glaucoma. Once vision is lost from glaucoma, it cannot be restored, so annual eye exams are very important."
Dr. Michael Tracy is a board-certified ophthalmologist. He completed his residency training in Ophthalmology at the Scheie Eye Institute at the University of Pennsylvania and his fellowship in Corneal and Refractive Surgery at the Bascom Palmer Eye Institute. In his private practice at Carlsbad Eye Care, Dr. Tracy uses his expertise and knowledge to provide patients with the best eye care in San Diego.
To contact Carlsbad Eye Care, please visit http://carlsbad-eye-care.com/ or call (760) 603-9910.