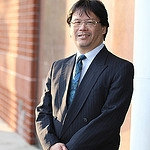 Claremont, Calif. (PRWEB) May 16, 2014
Scripps College Professor of Music Hao Huang was one of 16 educators selected nationally by the National Endowment for the Humanities (NEH) Summer Scholar program to participate in the seminar "Arts, Architecture, and Devotional Interaction." The four-week faculty development and research seminar "Arts, Architecture, and Devotional Interaction" will be held at the University of York in York, England.
Huang will investigate the aural world of early English devotional interaction, which includes several kinds of medieval English sacred music. Much of this music interacted acoustically with the "buildings and their historic furnishings that will serve as our essential primary sources," says Huang, the Bessie and Cecil Frankel Endowed Chair in Music at Scripps College.
The greatest number of English medieval chant sequences is in honor of the Virgin Mary, who is the subject of many votive English Masses. Most large English churches had Lady chapels, where many of these votive Masses were celebrated in honor of the Virgin Mary, either daily, or on Saturday – the day especially dedicated to the Virgin Mary. Of all the preserved medieval English polyphony, roughly two-thirds honor the Virgin. Huang wishes to further understand the social, cultural, and religious circumstances that motivated the English to develop and sustain this particular musical genre.
"I'll be working in collaboration with two leading scholars and will have access to a significant research collection, with time reserved to pursue my individual research and study project about English Lady Masses," Huang says.
A 2012-13 American Council on Education Fellow at Queens College CUNY, Huang has been an NEH Teaching Development Fellow for "Bridging Cultures" and was a Fulbright Scholar in American studies and music at Eötvös Loránd University, Budapest. He has served as a U. S. Information Agency Artistic Ambassador on several overseas tours to Europe, Africa, and the Middle East. In addition to international appearances in Asia and North America as a concert pianist, he has published articles in general music studies, ethnomusicology, anthropology, humanities, and American studies in refereed journals of Great Britain, Hungary, Greece, Japan, China, and the USA. He joined Scripps in 1994.
The National Endowment for the Humanities is a federal agency that supports summer enrichment opportunities at colleges, universities, and cultural institutions so that U.S. faculty can study with other experts in the humanities.