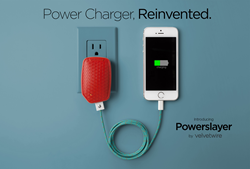 With billions in use worldwide, mobile device chargers cumulatively contribute to significant energy waste. Our goal is to bring a new level of efficiency and thoughtful attention to detail to this often overlooked but critical part of our everyday lives
Santa Cruz, CA (PRWEB) May 14, 2014
New York Museum of Modern Art has selected Powerslayer by Velvetwire to honor at this year's New York Design Week celebration. Powerslayer was selected together with a small suite of Kickstarter products to showcase at the MoMA store in New York. Products were chosen based on qualities of good design as ascribed by the museum in their innovation of function, use of novel materials and technological advancement.
Powerslayer is the first locally made, software driven, intelligent charger for smartphones, tablets and other USB devices. "With billions in use worldwide, mobile device chargers cumulatively contribute to significant energy waste. Our goal is to bring a new level of efficiency and thoughtful attention to detail to this often overlooked but critical part of our everyday lives," say Velvetwire founders, Eric Bodnar and Jennifer Lee.
Velvetwire collaborated with South San Francisco design studio, Most Modest, to bring awareness through good design. "By integrating technology into designed objects, the aim is to create memorable experiences and promote meaningful interactions with the environment," says Justin Champaign, Most Modest designer and founder.
Powerslayer is designed to be efficient in the way it operates and also in the way it's made. Velvetwire is committed to bringing electronics manufacturing back to the US. The small team at Velvetwire began a year-long process to create a supply chain of local manufacturers to build Powerslayer. "A longer and more difficult road than anticipated, it nevertheless proved well worth the journey," says Velvetwire founder Jennifer Lee.
To get the word out, the Velvetwire team chose to unveil Powerslayer via the crowdsourcing site Kickstarter in November. Through a successful campaign, they were able to build a strong following of dedicated backers who cheered them along as they raced to finish the product.
Powerslayer works by providing clean safe power to mobile devices when they are actually charging, then shutting down when no power is needed. Powerslayer is available for sale through Velvetwire's website, velvetwire.com for $40.
Contact Information:
Velvetwire
Santa Cruz, CA
Phone: 831-480-0148
Email: press(at)velvetwire(dot)com