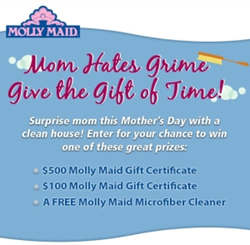 If you missed Mother's Day, purchase a Molly Maid gift certificate.
ANN ARBOR, MICHIGAN (PRWEB) May 15, 2014
Molly Maid, the leading national residential cleaning franchise celebrating 30 years of cleaning America's homes, know moms really want free time from house cleaning. Molly Maid has created the "Moms Hate Grime. Give the Gift of Time." Mother's Day sweepstakes. With kids' sports events, parties and the end-of-school year rush, Molly Maid wants to take house cleaning and America's most despised room, bathrooms, off your cleaning list. Participants can still enter to win the grand prize, $500 worth of Molly Maid house cleaning service through May 18.
If you missed Mother's Day, you can't go wrong with a Molly Maid gift certificate. In April, Molly Maid released our Cleaning Confessions survey showing 93 percent of respondents prefer to do nearly anything other than clean their house. In fact, 10 percent of people said they would rather eat dog food.
To enter, applicants must visit the Molly Maid Facebook page at https://apps.facebook.com/mmpromoapp/ and submit their basic information. The grand prize winner will receive $500 toward a Molly Maid house cleaning. Four runner-up winners will receive $100 Molly Maid gift certificates and the first, 25 entrants will receive a FREE Molly Maid microfiber cloth.
"Mother's Day is a time to give back to all the moms out there who constantly work to maintain a clean and healthy home," said Molly Maid President Meg Roberts. "A stay-at-home mom would make a six-figure salary if compensated for her work; we want to do what we can to cherish those hard-working mothers."
Molly Maid also provides free resources for parents and homeowners to make their lives a little easier. The House Cleaning Time Calculator helps busy moms visualize the amount of time they spend cleaning and what they could be doing with the saved time by allowing Molly Maid to do the work instead. The Kids Chore Chart, which comes in pink or blue, is available to download, print and use at home for parents wanting a little extra organization when it comes to everyday household duties.
About Molly Maid
Molly Maid, based in Ann Arbor, Mich., is one of three service companies under Service Brands International. The residential cleaning franchise cleaned more than 1.8 million homes last year alone. Molly Maid was founded in 1979 and began franchising in 1984. Currently, more than 450 Molly Maid units are operating in the United States alone, with an additional 200 operating throughout Puerto Rico, Canada, Japan, England and Portugal. Molly Maid has consistently ranked high in Entrepreneur magazine's Franchise 500 rankings and has been the recipient of numerous awards for entrepreneurship, software innovation and support for victims of domestic violence through their Ms. Molly Foundation.