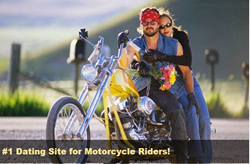 Los Angeles, California (PRWEB) May 14, 2014
Accidents happen every day. You might think that sounds pretty far from you, when in fact, it doesn't, especially when you're a constant motorcycle rider. Take a look at this statistic: Deaths caused by motorcycle crashes increased 50 percent in 2012 and more than 13 percent in 2013. And we're not even talking about injuries.
May is Motorcycle Awareness Month. States around the nation use this month to educate motorists on recognizing motorcyclists, as well as encourage motorcyclists to be careful on the road. Recently, BikerKiss.com, an online dating community that's specially designed for motorcycle enthusiasts, set up a special column on its forum to remind its members that safety is always the first thing to keep in mind when on the road.
BikerKiss included some important tips to remind its members of safety, such as:

Watch the road. Distraction is the last thing to expect for anyone on the road. Also be cautious about the condition of the road. A substantial number of motorcycle fatalities are single vehicle crashes.
Ride sober. Statistics show that the percentage of intoxicated motorcycle riders in fatal crashes is greater than the percentage of intoxicated drivers on our roads. This is why NHTSA urges all motorcycle riders to always ride smart and sober.
Avoid riding in poor whether conditions, especially in rainy and snowy days when roads become extra slippery.
Always wear a helmet. Never underestimate what a helmet can do to protect you. Sometimes it can even be the difference between life and death.
Also, all motorists are reminded to safely share the road with motorcycles and to be extra alert to help keep motorcyclists safe. Compared to motorists, motorcyclists are more vulnerable.
About BikerKiss:
BikerKiss.com, one of the SuccessfulMatch networks, is world's first, largest and most effective biker dating site for biker singles who are looking to meet other biker friends. It is a best place for bikers and friends to get to know each other, establish relationship and talk about their interests, or to help each other.