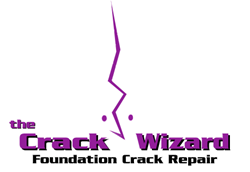 "Basement cracks and leaks are one of the biggest problems facing homeowers today"
Saint Louis, MO (PRWEB) May 14, 2014
The Crack Wizard, basement wall repair specialists, announces their line of exclusively-formulated basement leak repair products. The Crack Wizard specializes in repairing cracks and leaks in concrete basement walls. Dan Winslowe, spokesman for The Crack Wizard, says, "With the rainy season upon us, now is the perfect time to repair foundation cracks before they get worse. Leaks in poured concrete and block/stone walls are one of the biggest problems facing homeowners. Our products are the perfect solution for these symptoms. Plus, our exclusively-formulated fillers and sealants are packaged in user-friendly cartridges and resealable cans, and everything you need is included in our repair kits."
"A cracked foundation is a common problem, but it can get worse if left untreated," says Winslowe. Foundation cracks could leak and cause damage to a home and its belongings. "Concrete is inherently susceptible to cracking, and virtually every home in America could potentially develop a foundation crack. Now, homeowners nationwide can benefit from our experience and expertise in basement crack repair. Our repair products are engineered to solve a widespread household problem throughout the country", states Winslowe.
Consumers can now order products directly through The Crack Wizard's website, http://www.thecrackwizard.com. Plus, to better assist customers, the site offers an interactive feature which encourages homeowners to submit photos of their basement wall problems. "Our customers appreciate this feature because we can offer technical assistance right away. Our ability to 'see' their symptom beforehand gives us a clear understanding of their situation," said Winslowe.
The Crack Wizard understands the urgency in getting a basement wall problems assessed, and even offers overnight shipping for homeowners needing next-day repairs. Winslowe states, "We have technical professionals ready to talk with customers. Regardless of our online capabilities, we realize there's no substitute for a one-on-one conversation with someone who can provide immediate help."
For information on The Crack Wizard's repair products, visit http://www.thecrackwizard.com or call (888).CRACK.WIZARD (1-866-272-2594). For more information about The Crack Wizard, call 314-332-1300 or info(at)thecrackwizard(dot)com.