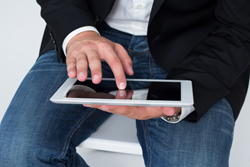 Almost every person has a smart phone or iPad, with their emails directly synced to them, so why not use this current technological innovation to their benefit?
(PRWEB) May 22, 2014
It is not surprising that a lot of guys do not like to go shopping, or just simply do not know what to buy when shopping for clothes. It's a common occurrence for some guys to wear the same worn out jeans and t-shirts over and over and over again. Well Cinch Men's Wear LLC is providing an alternative to shopping in retail stores, by using a styling service that does not require guys to leave the comfort of their own home.
Cinch Men's Wear is a new online clothing subscription service created just for men. Born out of the daily frustrations of putting a stylish outfit together each and every day, Cinch Men's Wear offers a unique alternative to shopping. Cinch Men's Wear offers a service to help customers select their favorite outfits. Whether they do not have the time, do not know what to buy, or simply looking for an easy method to build their wardrobe, their styling team help customers design and style their clothes,
Cinch Club Members enjoy the convenience of having a styling team put together outfits for them, and then the selections are emailed to them. "We know the challenges that life may bring, and finding time to shop can also pose its own challenges," said Cinch Men's Wear CEO Samuel Gonzalez. In an effort to help men update their wardrobe, they decided to utilize email and messaging to communicate with their members. "Almost every person has a smart phone or iPad, with their emails directly synced to them, so why not use this current technological innovation to their benefit?" he said. This method also puts their members in in the driver seat and in control of what their stylists are choosing for them.
So what is next on their list? "We are currently working on an iOS app that will connect members to our styling team," said Gonzalez. The app will allow for easier communication and will utilize push notifications to alert members when their outfits are ready for review. "They will be able to review their outfit selections through the app and allow members to request a outfit selection with a push of a button," he said.
With other clothing subscriptions already in the market, Cinch Men's Wear distinguishes itself from the rest by offering two different membership plans. This allows them to provide a more affordable option for members. They also strive to bridge the gap between new up-and-coming labels and potential customers. "With larger and established brands having a strong hold on the clothing market, we feel that it is important for us to connect new up-and-coming labels with our customers," said Gonzalez. As a new business, they understand the challenges that newer brands face.
Cinch Men's Wear presents the collection of all the established, latest and upcoming brands for menswear. The collection of the online store and membership is vast and trendy so that customers easily get what they are looking for. In all, customers will find the superb collection with great style and latest fashion. Cinch Men's Wear new service has emerged as the preferred choice for customers when it comes to finding perfect outfits for men.
ABOUT Cinch Men's Wear
Cinch Men's Wear LLC is a personalized clothing service for men, offering affordable and designer clothing to customers without any of the hassles of shopping in stores. Men tell Cinch Men's Wear their style, fit, and size preferences, and the company emails them outfit selections. Customers review the outfits by email and may choose one or all outfit selections to be mailed to them. Members have 10 days to try on the clothes before they are charged. They are only charged for what they keep and may return or exchange clothes with a prepaid shipping label. All shipping is free and there are no fees for the service. Based in Ballston Spa, Saratoga County, New York, the company is led by CEO Samuel Gonzalez. Samuel Gonzalez is a graduate of the University at Albany and Marist College. Visit http://www.cinchmenswear.com to learn more and join the Cinch Club.