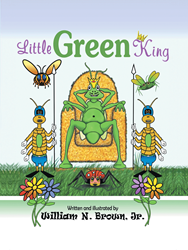 The colorfully drawn insect characters, who act much like people, fire the imagination.
Charlotte, N.C. (PRWEB) May 15, 2014
It's not hard to imagine chef Carl Johnson's surprise when he learns the new restaurant he will cook for is not real, but an ingenious attempt to trap him as chef for the town's ruler who is a clever giant grasshopper known as the Green King. There's only one rule in his town, which is to avoid cutting any greenery – or risk being attacked by the Green King's army of insects and having your descendants punished as well.
Carl doesn't want to stay but feels trapped by this situation. After a courageous man attempts to challenge the town's law, the Green King retaliates with his army. Carl then realizes the Green King has to be stopped. He proposes a celebration to mark the insect's great victory and orders a special dessert with a huge surprise in honor of the occasion.
"Little Green King" is a magical tale aimed at showing children that reading books can be fun, as well as imparting a lesson about living in harmony with nature. The colorfully drawn insect characters, who act much like people, fire the imagination and bring this message home.
This is the second book for William Brown Jr., who also wrote "Jimmy's Alphabet Garden." Prior to writing children's books, the professional artist was the creator of two nationally published comic strips.
----------
For additional information, please visit http://www.littlegreenking.com.
Little Green King
William Brown Jr.
Dog Ear Publishing
ISBN: 978-1-4575-2459-2 48 pages $20/9. US
Available at Ingram, Amazon.com, Barnes & Noble and fine bookstores everywhere.
About Dog Ear Publishing, LLC
Dog Ear Publishing offers completely customized self-publishing services for independent authors. We provide cost-effective, fast, and highly profitable services to publish and distribute independently published books. Our book publishing and distribution services reach worldwide. Dog Ear authors retain all rights and complete creative control throughout the entire self-publishing process. Self-publishing services are available globally at http://www.dogearpublishing.net and from our offices in Indianapolis.
Dog Ear Publishing – self-publishing that actually makes sense.