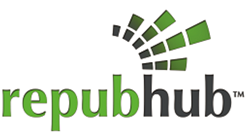 repubHub answers publishers' need for a web-friendly licensing and syndication model
Seattle, Washington (PRWEB) May 14, 2014
iCopyright.com, a Seattle company that invented instant licensing of digital content via its award-winning iCopyright Toolbar plugin, has launched repubHub, a content network that:

Serves the evolving needs of online editors, marketers and bloggers for credible, no-cost or low-cost and fully licensed third-party content
Solves the need of online publishers – traditional and entrepreneurial – for a content syndication, licensing and monetization model that satisfies the expectations of Web publishers and users.
The repubHub service is available to all types of users at no cost and allows them to:

Search a database of more than 30 million articles for content relevant to their audiences
Choose whether to republish for free (with ads) or for a modest fee (without ads)
Republish articles instantly, with just a few clicks
Receive RSS, HTML or email feeds of fresh content daily or as new articles are published
The new service is formally launching with breaking news, trend stories and evergreen content from top U.S. and Canadian publishers including Financial Post; Global Post; International Business Times; content from numerous newspapers provided by McClatchy Tribune News Service, including Chicago Tribune, The Miami Herald, and Orlando Sentinel; Newsweek; PR Newswire; The Washington Times; UPI; and many others.
During its beta phase, specialized news sites, online editors of smaller daily and weekly newspapers and entrepreneurial publishers have been adopting repubHub as a source of credible content to fill coverage gaps, supplement staff resources, stretch budgets and meet content marketing goals.
Announcing the formal launch, iCopyright CEO Andrew Elston said, "repubHub is an innovative content network enabling anyone to reuse and republish content from world-class publishers. repubHub also provides publishers with a syndication platform that empowers them to safely and easily license content to others. repubHub is a natural evolution of the services and technology tools we have developed for publishers over 12 years to help them protect, promote and monetize their digital content assets."
The company recently launched a new plugin version for WordPress that allows users to search the repubHub database, create feeds of fresh content, and republish articles directly from their WordPress dashboard. Additionally, installing the free iCopyright plugin on a WordPress site or other CMS, places a licensing and republishing button on site content, making it eligible for syndication through repubHub.
"Now, in addition to protecting and licensing content on their own websites," Elston added, "our technology gives publishers the ability to syndicate it to new readers and other publishers via repubHub. Offering an ad-supported option meets the needs of many websites that don't have the budget for traditional paid syndication arrangements. At the same time, widely expanded page views of ad-supported content through syndication increases publisher revenues when content goes viral."
Licensed content is rendered with fidelity to the original and is presented with the content creator's branding, links, copyright notice, and terms of use. repubHub handles all administrative details of syndication and payments.
Founded in 1999, iCopyright is a two-time winner of the SIIA's CODiE Award for its advanced content licensing technology and has been listed among the EContent 100 companies that matter most in the digital content industry for the past eight years. repubHub is a featured EContent Trendsetting Product for 2014.
For further information about repubHub visit http://www.repubHub.com, email info(at)icopyright(dot)com, or call 206-484-8561.