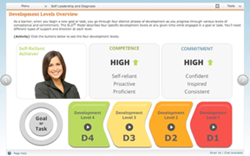 'With CD2, our content has come alive online whether using a PC, Mac or mobile device. The game has changed forever!' - Scott Blanchard
Overland Park, Kansas (PRWEB) May 15, 2014
CD2 Learning is proud to announce that we have been nationally recognized for quality and innovation in 3 categories by the American Business Awards in 2014.
Finalist in Human Capital Management Solution for our CD2 Leadership sustainability tool kit: The CD2 Toolkit provides users with the ability to set up meetings and facilitate communication using a common platform. Additionally, users can map apply their learning and align their goals within their organization knowledge to see where they are making a difference and having an impact.
"One of our goals is to use our learning architecture to partner with organizations to help them develop a sustainable learning culture," said Dena Bartlett, COO. "Using our toolkit, organizations can put effective talent management into practice and see measurable results."
Finalist in Corporate Learning/Workforce Development Solution for our CD2 Leadership: Blanchard Essentials leadership development program: The CD2 Leadership Blanchard Essentials Edition is a set of online lessons delivered through the learning platform that helps organizations increase leadership and create a common language to shape a corporate culture.
"Until we developed and released our online leadership curriculum with CD2, the promise of eLearning was empty for the Ken Blanchard Companies and our clients," said Scott Blanchard, Principal and Executive Vice President of Client Solutions for The Ken Blanchard Companies "With CD2, our content has come alive online whether using a PC, Mac or mobile device. The game has changed forever!"
CD2 Learning's best-in-class technology platform provides access to this leadership development training to anyone, anywhere, at any time, from any device. Organizations of all sizes take advantage of Ken Blanchard's world-class content.
Finalist in Content Management Solution for our proprietary content authoring tool, CD2's Innovator: The CD2 Innovator is an object-based interaction and simulation engine, built on an easy-to-use WYSIWYG drag and drop interface. These interactions can be deployed to both desktop and mobile platforms, while being managed within the CD2 Learning content library system.
"Our patent pending Innovator allows training developers to create engaging, interactive learning activities and tools," said Dena Bartlett, COO. "Because the Innovator is organically built into our learning architecture, every user action can be tracked and measured. The Innovator has the power to take real world situations and recreate them as simulations and assessments."
The American Business Awards are the nation's premier business awards program. All organizations operating in the U.S.A. are eligible to submit nominations—public and private, for-profit and non-profit, large and small.
Details about the CD2 Learning can be found at cd2learning.com.
About CD2 Learning
CD2™ Learning was started in 2008, with one goal in mind: to develop a scalable system that would allow companies to create and deliver innovative content in a new way. Combining both features of an LMS and CMS in a cloud-based learning architecture, CD2 challenged the status quo on its quest to offer companies in different industries a way to connect with their customers. The solution offered allows for maintaining the stability of intellectual property as well as giving old ways of delivery new life. CD2™ Learning is headquartered in Overland Park, KS.
About the Stevie Awards
Stevie Awards are conferred in five programs: The American Business Awards, The International Business Awards, the Asia-Pacific Stevie Awards, the Stevie Awards for Women in Business, and the Stevie Awards for Sales & Customer Service. A sixth program, the German Stevie Awards, will debut later this year. Honoring organizations of all types and sizes and the people behind them, the Stevies recognize outstanding performances in the workplace worldwide. Learn more about the Stevie Awards at http://www.StevieAwards.com.