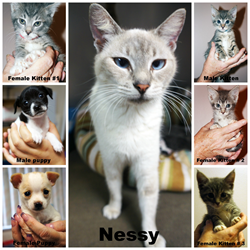 Nessy shows that a mother's love knows no bounds.
Titusville, FL (PRWEB) May 14, 2014
Back in March, cat named Nessy at the SPCA of Brevard reminded everyone that a mother's love knows no bounds when she accepted two hours-old rejected Chihuahua-mix puppies into her litter of kittens. She immediately cared for the puppies as if they were her own and raised them alongside her four biological children.
Since that time, Nessy's six children have been growing strong and healthy; they are nearly ready to find homes of their own. Nessy is definitely ready to BE someone's baby instead of having to care for so many babies and who would blame her? There has been worldwide interest in this cute family with hundreds of people wanting to adopt them, so the SPCA will be using a lottery-style drawing to select adopters.
Applications are currently being accepted through Wednesday, May 21, 2014. Each submission will be reviewed and, if approved, it will receive a numeric assignment. Those numbers will be placed in a lottery-style drawing on Wednesday, May 28, 2014. There are three females and one male kitten and both a male and female puppy available, in addition to their beautiful mother, Nessy. For complete details and to download an adoption application, visit http://www.spcabrevard.com.
For more information, contact Susan Naylor, SPCA Media Specialist at 321-267-8221 ext. 248 or spcamedia(at)spcanorthbrevard(dot)com.
###
About SPCA of Brevard
The SPCA of Brevard, Inc. is a private, non-profit organization with the mission of "protecting and providing a voice to the homeless animals of Brevard County." Founded in 1979 in Titusville, Florida, the SPCA is the largest private no-kill animal rescue group in Brevard, finding homes for more than 1,300 animals a year. It is the first adoption facility with free-roaming cat rooms in the County, allowing adopters to interact with cats in a more home-like setting. The SPCA of Brevard Clinic also provides reduced-price vaccines to the public and has performed more than 50,000 low-cost spay/neuter surgeries since 1999.
For more information, visit http://www.spcabrevard.com.