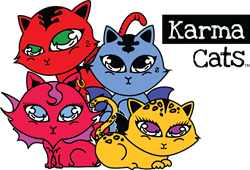 Los Angeles, CA (PRWEB) May 15, 2014
International recording artist YENN has launched her excitingly new jewelry and accessory brand lovingly named Karma Cats. The Karma Cats are a band of animated beings of the "mystical" world. The mission statement behind the Karma Cats is to relay the message of spreading good karma. Karma Cats intends to Spread Good Karma with it's Karma Cards. The Spread Good Karma Campaign consist of Karma Cards which each has it's own ID number. YENN and the Karma Cats have partnered with other popular brands to install a giving initiative in society. Along with Karma Cats merchandise, fans and followers who have a Karma Card can be the recipients of sponsored products via the Spread Good Karma number drawings.
There are several ways a Karma Card can be obtained. We have drawings, you can get one by simply creating an account on the website or making a purchase.
Karma Cats also has a loyalty rewards program where you can earn points that can be used to buy Store Credit. Store Credit can then be used to buy from the Karma Cats store. http://www.lovekarmacats.com.
Karma Cats has been featured on Entertainment Tonight, and has upcoming giveaways with other media outlets and magazines.