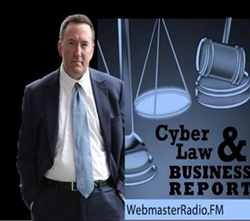 "Silicon Beach will play a vital role in the future of Southern California,"
Boca Raton, Florida (PRWEB) May 14, 2014
Bennet Kelley, host of "CyberLaw and Business Report" (and founder of the Internet Law Center in Santa Monica, California) will host a live two-hour broadcast featuring the candidates vying for the vacant 33rd United States Congressional District seat on Wednesday May 14th at 10am Pacific on WebmasterRadio.FM.
Kelley will speak one-on-one with four of the leading candidates (Elan Carr, David Kanuth, State Senator Ted Lieu, and Marianne Williamson) seeking to replace the retiring Representative Henry Waxman (D-Beverly Hills).
Santa Monica, Venice and other surrounding areas encompass California's 33rd Congressional District, also commonly named as Silicon Beach for its burgeoning technology industry.
"We felt that this particular race had widespread global implications that will influence and impact the entire technology sector," WebmasterRadio.FM Co-Founder and President Brandy Shapiro-Babin said. "We felt our listeners needed to hear these candidates respective platforms and give power to ignite the world to get involved and take charge of their own destiny."
Each candidate is asked to state their position on various tech-oriented issues (including NSA Reform, Net Neutrality, TPP Fast Track, Do Not Track and Cyber Security) and briefly explain why they think they will best represent Silicon Beach in Congress.
"Silicon Beach will play a vital role in the future of Southern California," explained Kelley. As a result, we launched the Silicon Beach Congressional Debate since "it is important that whomever replaces Rep. Waxman understands this and that Silicon Beach is equally aware of where these candidates stand on important tech issues." Kelley added, "we are simply trying to foster greater awareness and engagement between Silicon Beach and its elected representatives."
Kelley will also speak with veteran Southern California political analyst Coby King of High Point Strategies LLC about the debate and the state of the race.
Listeners are able to interact with questions and comments to the host and guests for each interview, as well as all live WebmasterRadio.FM programming, by following us on Twitter (@webmasterradio), Facebook, LinkedIn, Google+ and our live real-time interactive chatroom. Links to our respective social media pages and our chatroom can be found on our home page on WebmasterRadio.FM.
New episodes of Cyber Law and Business Report air Wednesdays at 1pm Eastern/10am Pacific on WebmasterRadio.FM or on demand in the WebmasterRadio.FM archives inside the Internet Marketing Channel or through iTunes, Stitcher, Zune Marketplace, Spreaker and the WebmasterRadio.FM Mobile Application for iOS and Android Smartphone devices.
About WebmasterRadio.FM
WebmasterRadio.FM lifts the "veiled curtain" of the Internet, bringing the business community together through an interactive radio network. Its listeners are a global group, comprised of everyone from corporate executives and decision makers to small and mid-sized businesses and individual entrepreneurs.
WebmasterRadio.FM's stellar line-up of radio programming includes; "Market Edge" with Racepoint Global CEO and Chairman Larry Weber, "Purse Strings" with Lola Red president and chief strategy officer Maria Reitan and the "CyberLaw and Business Report" with Internet Law Center Founder Bennet Kelley.
To tune into WebmasterRadio.FM's live content or check out the show lineup, please visit http://www.WebmasterRadio.FM. All WebmasterRadio.FM programs are available in podcast format through all major podcast portals (including iHeartRadio, iTunes, TuneIn, Stitcher and Zune Marketplace), as well in archived format on-demand through our proprietary mobile application for iOS and Android smartphone devices.
Media Contact:
Brandy Shapiro-Babin
954-309-5578
About Cyber Law and Business Report
Now in its fourth season, Cyber Law and Business Report is hosted by the founder of the Internet Law Center, Bennet Kelley. Bennet has been recognized as one of the nation's top internet attorneys and was one of two private sector lawyers selected by the U.S. Department of Commerce to present on e-commerce issues at the 17th U.S.-China Legal Exchange. He is a past co-chair of the California Bar Cyberspace Committee where led the Committee's effort to develop a primer on cyberspace law for incoming state lawmakers. Bennet is also an award-winning journalist.