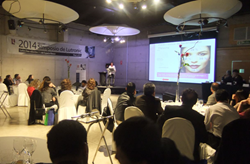 Fremont, CA (PRWEB) May 15, 2014
Lutronic, a leading innovator of aesthetic and medical technology, participated as a sponsor in the 32nd annual meeting of Latin American Dermatologists (RADLA) held in Santiago, Chile from May 2-5, 2014.
The RADLA has been the biggest Latin American Dermatological Congress for more than 30 years and around 2,000 Latin American dermatologists participated in 2014.
Lutronic's new Nd:YAG-based multiplatform, SPECTRA XT™, was unveiled during two oral presentations on laser toning for melasma treatment and the early stage of erythematotelangiectatic rosacea treatment with the Q-switched Nd:YAG laser at 1064 nm and 595 nm respectively. Thanks to its introduction at the scientific program, SPECTRA XT also made a successful debut at the Lutronic booth and attracted a great deal of attention.
Another clinical case presentation for the skin abnormal condition known as angiofibroma using the Lutronic CO2 fractional ablative laser, the eCO2™ was also featured on the 3rd day of the main scientific congress.
On the evening of the 2nd day of the congress, Lutronic hosted the "Lutronic Symposium" at Espacio Riesco, Santiago where nearly 60 Latin American clinicians participated to enhance their knowledge and expand their practice.
Dr. Kateryn Peréz Willis, M.D., Jackson Memorial Hospital, Peru, shared her clinical experiences of various patient cases for facial and non-facial scars, textural irregularities and photo damages with the eCO2. "eCO2 made me believe in fractional laser therapy with its amazing results from the first session and I get the best results, especially when used in combination treatment with Botox or fillers," she stated. Dr. Willis also presented her 6-month follow-up study of severe melasma using a Q-switched laser, SPECTRA™ in Skin Type III and IV. "This device is the only device you could treat melasma for various skin types without sacrificing both safety and efficacy," she added.
Dr. Víctor Hugo Correa, M.D, Chilean aesthetic and medicine pioneer in Chile, presented microneedling radiofrequency (RF) technology, INFINI™. He emphasized that INFINI provides effective treatment with minimal downtime and patients can resume their normal activities quickly. "For old people, INFINI is the perfect tool for treating skin laxity, wrinkles and neck lifting," he said.
Boncheol Leo Goo, M.D., a laser expert from Korea who delivered his podium presentation at the main congress, also attended this symposium and shared his knowledge of the use of SPECTRA XT in treating erythematotelangiectatic rosacea. "SPECTRA XT is very effective in output compared to the other pulsed lasers or IPL systems that I have used for treating rosacea. It has less side effects and painless and no anesthesia is necessary," he added.
S.H Ko, Lutronic's international sales director said: "A number of the key products in the Lutronic portfolio were highlighted this year at the RADLA annual conference. Through this event, I can see that Latin American market is growing rapidly and hope that Lutronic can contribute its future growth."
About Lutronic
Lutronic, a leading innovator in advanced aesthetic and medical laser and related technology, was established over 17 years ago to bring intuitive, robust, versatile devices that are affordable and efficacious to the worldwide medical community. Committed to improving medicine, Lutronic partners with key opinion leaders to advance science and ensure the efficacy of its systems. All systems are versatile and offer multiple setting and treatment options for customized treatments, which optimize outcomes for a wide variety of conditions and treatments including melasma, tattoo removal, soft tissue incision, vascular lesions, hair removal, wrinkle reduction, skin resurfacing, body/facial contouring, chronic pain and more.
With a focus on physician needs and patient outcomes, Lutronic dedicates time and funding toward the development of devices that offer features and improvements not found in today's market. Devoting more than 20% of revenues to R&D, Lutronic holds more than 240 intellectual properties including current and pending patents worldwide. With more than 250 employees worldwide, Lutronic has offices in the US, Korea, China, Japan, and Europe, a worldwide network of distributors, and is ever expanding.