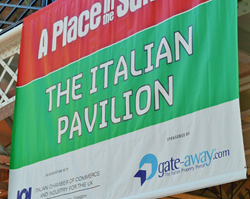 74% of British respondents affirmed that art, nature and "la dolce vita", "the good life", were the magnets that most-attracted them to Italy.
Grottammare, Italy (PRWEB UK) 15 May 2014
London's "A Place In The Sun", the recently concluded real estate trade exposition, proved to be a big winner for folks seeking their own "place in the sun". Gate-Away.com, the Italian property portal and official sponsor of the Italian pavilion, conducted a survey among show patrons to gather information about UK buyers who are motivated to make a residential purchase in Italy. 62 of the responses were from British home seekers who were already actively engaged in the search for Italian property, and their input regarding the purchase experience is extremely valuable.
The superb quality of the Italian lifestyle is one of the keys to the increased British interest in Italy as a destination. 74% of British respondents affirmed that art, nature and "la dolce vita", "the good life", were the magnets that most-attracted them to Italy. Turbulent economic factors have yielded lower sales prices in many Italian residential markets, and British buyers are well aware of these opportunities. Gate-Away.com reports a one-year 31% jump in inquiries during 2013, second only to the U.S.
More than half (53%) of the people who responded said that Italy was the only country that they were even seriously considering, while the remaining 47% all had Italy ahead of other countries that they were still thinking about, usually France and/or Spain. In an interesting side-note, when respondents were asked for things that might eliminate Italy from consideration, nearly 40% couldn't come up with a single reason not to purchase a home in Italy.
There were areas of concern, of course, with 26% of those polled referencing potentially excessive taxation while 18% expressed unease in dealing with an Italian government bureaucracy that can be hard to navigate. In terms of real estate prices, British interest covered a fairly wide range. Close to half (48%) of those who answered the questionnaire said they were looking for houses between 100,000 pounds and 250,000 pounds. 16% said they were seeking properties of less than 100,000, and 21% said that they were prepared to buy homes priced at 250,000 pounds on up to half-a-million pounds.
La dolce vita, dovetailed with favorable price points, has produced what are seen as good overall real estate values for British investors, and these values are gaining in notoriety at a rate that promises significant real estate activity in the Italian market in 2014.
--------------
About Gate-Away.com
Founded in 2007, Gate-Away.com is Italy's number one property portal for worldwide buyers who are looking for their perfect Italian property. It is now available in ten languages, and regularly visited by more than 150 countries. The site is designed specifically for use by non-natives. Fast and easy to use, the portal is the best way to view comprehensive listings for every type of property anywhere in the country. The Gate-Away.com portal has multiple features to help people find property for sale in Italy, and to provide guidance in navigating the sales or rental process.