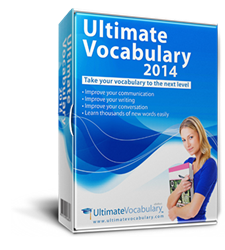 Pun creation is a fun vocabulary improvement activity as it can help the learner become aware of linguistic relations between words.
New York City, NY (PRWEB) May 14, 2014
eReflect, designer of Ultimate Vocabulary™ software, announces the publication of their latest blog post, "If Animals Can Speak, 22 Animal Puns You Will LOVE! " eReflect anticipates that vocabulary experts and pun-lovers alike will thoroughly enjoy this post. The official blog of the vocabulary builder, Ultimate Vocabulary™, has collected a series of funny animal puns that have been making their way around humorous websites and social media networks, and presents them to its word-loving community.
"Well this is hawkward," "I love you like no otter," and "Don't listen to him he's a lion" are not misspelled phrases but intentional animal puns. For anyone who thinks that "animal puns are getting boaring," eReflect hopes to change their mind, because the blog has a lot more to share with word lovers. Clever plays on words like "What do you mean I'm not a bear, I have all the koalafications" and "You have cat to be kitten me right meow" teach language skills through humor; as eReflect points out, getting a new perspective on vocabulary through word games is one of the best ways to improve familiarity with language and gain flexibility and creativity in how it's used.
But even people who aren't focused on learning new vocabulary will find this post to be worth a read. In fact, for anyone in need of a good laugh on a Monday morning, this is the day's go-to blog post. "While these puns may not directly help build your vocabulary, they are funny and can be shared with friends and family to get them interested in language," an eReflect representative commented today. Paronomasias (puns) are a linguistic device that reveals the speaker's wit and creativity. Puns are created either with words that have a similar meaning or with homophones (or near homophones) as in the case with most puns in this post by eReflect: e.g. lion – lying, boaring – boring, qualifications- koalafications.
Puns can be created either by pure chance or after creative brainstorming, and the result is more often than not hilarious. Pun creation is a fun vocabulary improvement activity as it can help the learner become aware of linguistic relations between words. Homonyms, synonyms, rhymes, and double meanings all lend richness to everyday communication, not just puns. If people don't want to think of new puns "owl by themselves", eReflect recommends making a group activity out of the exercise, perhaps as part of an English language class.
For more information on how you can benefit from Ultimate Vocabulary, please visit its official website, http://www.ultimatevocabulary.com.
About Ultimate Vocabulary™
Ultimate Vocabulary provides a proven and powerful platform, built to improve anyone's vocabulary.
The interactive self-improvement system provides more learning tools than any other program on the market, as well as more information on words.
The Ultimate Vocabulary software provides each and every user with a personal computer tutor. Providing a step-by-step guide to learning a powerful vocabulary, Ultimate Vocabulary is the learning tool everyone can benefit from.
Of course, the software is also backed by eReflect's iron-clad money back guarantee.