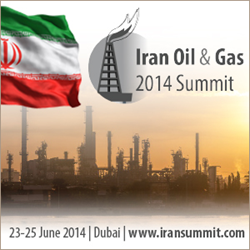 It's an IRN Summit!
London, UK (PRWEB UK) 14 May 2014
Iran Oil & Gas 2014 Summit to evaluate the country's E&P and Downstream developments
Iran's Deputy Oil Minister, Mr. Ali Majedi, recently stated that the Iranian Republic will start to export natural gas to Europe very soon. Three different pipelines are expected to be used crossing Turkey; Iraq, Syria and Lebanon; and Armenia, Georgia and the Black Sea. Mr. Majedi stressed these new routes will permit Iran to increase its gas supply to Europe.
The Iran Oil & Gas 2014 Summit, taking place on 23rd-25th June at the 5* Conrad Hotel in Dubai, will address this and many other key issues within the Iranian oil and gas sector to provide the high level delegation with sound knowledge around oil and gas developments in the country, renowned for possessing the world's fourth largest proven oil reserves.
In addition to an overview of the downstream sector, the Speaking Committee will focus on current new ventures, economic, operational and regulatory aspects, as well as investment opportunities in Iran. The third day will be dedicated to workshops to shed light on the regulatory environment specifically and the fiscal regime around energy activities in Iran.
The high level Summit will feature distinguished speakers and representatives from the Iranian Government, the NIOC and its subsidiaries, oil and gas companies experienced in the region, geologists, economists, consultants and key international service providers, including:

Mansour Daftarian, Chairman of the Board of Directors, Iranian Gas Institute
Gholamreza Dashty, Chief Geologist, Iranian Gas Institute
Mohammad Mokhtari (PhD in expl. Geophysics), Faculty Member, International Institute of Earthquake Engineering and Seismology
Fardin Pourvajdi, CEO, Tehran Energy Consultants, Iran
Ali Amidi, CEO, MAT Group Ltd., Iran
Dr. Alireza Bashari, Chairman of the Board Directors, ISPG (Iranian Society of Petroleum Geology), Iran
Abdollah Esmaeili, Senior Petroleum Engineer, National Iranian Oil Company (N.I.O.C)
Maryam Dehghani, Petroleum Engineer, National Iranian South Oil Company (NISOC)
Jorge Baldi, General Manager Middle East, Repsol, UAE
Dr. Mahmoud Reza Delavar - Assoc. Prof. , Director of GIS WG, Center of Excellence in Geomatic Engineering in Disaster Management, Department of Surveying and Geomatic Engineering, College of Engineering, University of Tehran
Dr. Vali Ahmad Sajjadian, President, Iranian Society of Petroleum Engineering ISPE
Carole Nakhle, Economist specialising in legislation, University of Surrey, UK / Lebanon
David Ramin Jalilvand, Researcher, Berlin Centre for Caspian Region Studies, Freie Universität Berlin, Germany
Rabia Hunky, Senior Reservoir Engineer, Production & Reserve Development Department, National Oil Corporation Libya, Libya
Bernard Hourcade, Senior Research Fellow emeritus CNRS Paris (Centre National de la Recherche Scientifique), France
Steve Martin, Managing Director, Veritas Academy
For more information about the Summit, please visit the website http://www.iransummit.com or contact Lola Bourget at LolaB(at)irn-international(dot)com.