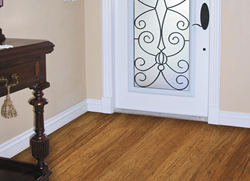 (PRWEB) May 14, 2014
BambooIndustry.com is a leader in bamboo flooring. As one of the best suppliers in the industry, the company has proudly released its tiger bamboo flooring collection; the new models are offered now at discounted prices, up to 31% off.
Accoring to the website, tiger bamboo flooring has a mixing color which come from natural bamboo strips with caramel bamboo strips. Tiger bamboo flooring can have various tones depending of percentage of mixing, like 30% of natural bamboo strips with 70% of caramel bamboo strips.
"We are happy to add the new tiger bamboo flooring to our product catalog. They are very attractive. They are made with high quality bamboo, following the latest family decoration trends. BambooIndustry.com is a leading bamboo product company in the global market, and I am sure every customer will like it," a sales manager of the company states. "Tiger bamboo flooring is newly developed in recent years, and it is a new type of green environment-friendly material with consistent high quality."
Along with tiger bamboo flooring, BambooIndustry.com provides a wide range of bamboo flooring products. All its models are famous for modern designs and reasonable prices. Bamboo mats, bamboo carpets and bamboo panels are also available at its online shop.
About BambooIndustry.com
BambooIndustry.com is a website that belongs to BothBest Bamboo Flooring Co. Ltd., a professional supplier and exporter of bamboo products. Certified by both ISO9001:2008 and ISO14001:2004, the company has 8 years of experience in the manufacturing and wholesale of bamboo flooring products. It strives to bring its customers the latest styles and innovations of bamboo flooring, bamboo paneling, bamboo plywoods, bamboo furniture, and other bamboo products.
More information about the business and its bamboo flooring products can be found at http://www.bambooindustry.com/bamboo-flooring/strand-woven-tiger.html.