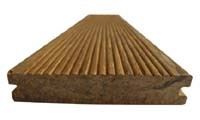 (PRWEB) May 16, 2014
BambooIndustry.com has been recognized as a professional supplier and exporter in the bamboo industry. Recently, the company has announced its new distressed bamboo flooring collection, and it is offering big discount on these new models.
Based on the website, distressed bamboo flooring is scraped by hands, without carpenter machines involved. This can ensure every board is unique and different. Distressed bamboo flooring is crafted on strand woven bamboo with a click-lock application. It is great for do-it-yourselfers without hard work on installation, also available in multiple colors.
"Each piece of our distressed bamboo flooring comes with its own character and individuality, because it is manually produced, and scraping tools are used to create the scraped effect. This means each piece of hand scraped bamboo flooring is not uniform, but unique in appearance," the CEO of the company introduces.
A big discount is the most outstanding feature of the new distressed bamboo flooring collection, because all these products are available at discounted prices. Bamboo flooring is an excellent choice for decorating a home and giving every buyer a floor that is made from a wood that is long lasting, light, and enjoyable.
BambooIndustry.com is a bamboo flooring specialist and all its knowledge is based on many years of experience in the bamboo industry. It strives to bring its customers the latest styles and innovations of bamboo flooring, bamboo paneling, bamboo plywoods, bamboo furniture, and other bamboo products.
About BambooIndustry.com
BambooIndustry.com is a website that belongs to BothBest Bamboo Flooring Co. Ltd., a professional supplier and exporter of bamboo products. Certified by both ISO9001:2008 and ISO14001:2004, the company has 8 years of experience in the manufacturing and wholesale of bamboo flooring products.
More information about the business and its bamboo flooring products can be found at http://www.bambooindustry.com/bamboo-flooring/distressed-bamboo-flooring.html.