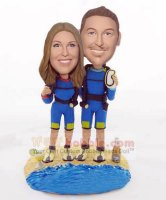 (PRWEB) May 16, 2014
WowBobble.com is a leading brand of interesting figurines. Recently, the company has announced its bobbleheads cake topper promotion. That is to say, all the firm's newly released bobbleheads cake toppers are now offered at discounted prices, from 10 to 30 percent off. The big sale will not be valid forever; it will come to an end on May 27, 2014.
WowBobble.com's bobbleheads cake toppers come in various patterns and styles. All these funny items are featured with outstanding characteristics: interesting designs, vivid looks, quality materials and so on. They are an excellent choice for people who want more fun at a big day.
What's more, the company's seasoned workers have a vast knowledge of craftsmanship and customer needs. Actually, WowBobble.com has become a popular cake topper supplier in the industry. The company often provides promotional prices and discounted shipping fees for old and new clients.
"Our new bobbleheads cake toppers can add plenty of fun and happiness to some big days. They are suitable for birthday parties, weddings, award banquets, mascot production and so on. More importantly, our top designers pay much attention to customer requirements. Worldwide distributors can also get bulk order prices. Please pay attention that the big sale will last until May 27," the company's development manager says.
About WowBobble.com
WowBobble.com is a professional manufacturer and retailer of interesting bobbleheads. The company is provided worldwide customers with a huge selection of funny items, including wedding bobblehead cake toppers, wedding bobblehead cake toppers, bridesmaid bobbleheads, fully customized bobbleheads and so on. The company wants to offer all kinds of great bobbleheads for new and old clients.
For more details about its new items, customers can visit: http://www.wowbobble.com/my-face-custom-bobbleheads-wedding-bobblehead-cake-topper-c-1_8.html.