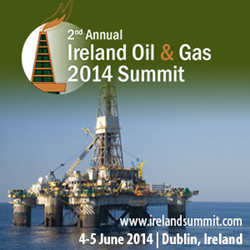 It's an IRN Summit!
London, UK (PRWEB UK) 15 May 2014
Good news for Ireland's oil and gas industry as key companies experience jump in share prices.
Shares in the Irish exploration firm, Fastnet Oil & Gas, jumped by nearly 6% at the end of last month, after the company revealed that initial result readings from 3D seismic surveys of its 'Mizzen' and 'Deep Kinsale' prospects identified 22 "structures", or indications of oil.
Fastnet Oil & Gas will present for the second year running at the Ireland Oil & Gas Summit, where they will shed light on their Celtic Sea assets. This meeting will be held at the Conrad Hotel in Dublin on the 4th-5th June this year, at a time when new licencing rounds for offshore Ireland are due to be announced.
On the morning of the first day will be a high-level presentation by Ciarán Ó hÓbáin, the Principal Officer of the Petroleum Affairs Division from Department of Communications, Energy and Natural Resources and Environment of the Republic of Ireland.
The second edition of this senior level Summit, organised by leading business-intelligence group International Research Networks, will allow you to meet all the key companies active in Ireland at present.
Some of the companies speaking at the Summit this year include:
Providence Resources; Petrel Resources; Irish Offshore Operators Association (IOOA); Nalcor Energy - Oil and Gas; Lansdowne Oil and Gas; Europa Oil & Gas; Fastnet Oil & Gas; Woodside Energy; Sosina Exploration; Clannah Natural Energy/Belize Natural Energy; Commission for Energy Regulations, Republic of Ireland; Geological Survey of Northern Ireland, Department of Enterprise, Trade and Investment; Scottish Parliament; Aberdeen City Council; Infrastrata; Enterprise Ireland, Irish Maritime and Energy Resource Cluster (IMERC, Energy Institute Republic of Ireland; Veritas Academy.
More information can be found on the website http://www.irelandsummit.com.