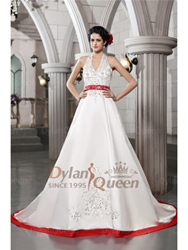 (PRWEB) May 16, 2014
Recently, Dylan Queen has added over 129 graceful evening dresses to its catalog. The company is a popular dress supplier in the industry, and the new designs have caught many ladies' eyes.
"All these new models are well designed and handmade by our designers. We hope to catch every opportunity to spread our business to more new markets. All our outfits are offered in various colors and styles. Along with the discounts, we provided discounted shipping costs to customers from every part of the world," the sales manager of Dylan Queen said.
According to the sales manager, the new chic dresses are specially made to expand the company's market share. They are offered at discounted rates at the moment, up to 85% off. Worldwide ladies can order custom made items without any extra costs.
The number of Dylan Queen's customers has increased greatly each year, and the business attributes its success to its unique designs and dedicated craftsmanship. Affordable prices are very important for many ladies when they buy dresses online.
"We have presented our newest designs to the market. These outfits will sweep throughout the industry, and we are ready for the possible shopping wave. Our customer service team is unrivaled, and every lady will enjoy a safe, secure and private dress shopping experience at our website," the sales manager added.
About Dylan Queen
Dylan Queen is a reliable dress company offering many prom dresses, evening dresses, bridesmaid dresses, formal dresses etc. It aims to provide worldwide customers with fashionable gowns at acceptable prices. It frequently updates its website with new assortments.
For more details of the company and its products, please visit: http://www.dylanqueen.com/evening-dresses/ or http://www.facebook.com/iDylanQueen