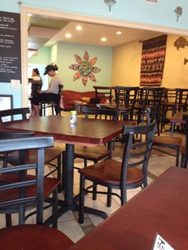 The Clarice Metal Chairs are very tough and durable, which makes them a smart buy.
Ft. Walton Beach, FL (PRWEB) May 14, 2014
Restaurant furniture manufacturer and distributor, Affordable Seating recently Synergy Organic Juice Bar & Café in Fort Walton Beach Florida to a successful grand opening by supplying with new commercial chairs and bar stools.
Synergy is an organic café and juice bar that focuses on using real whole foods from local and regional farmers. The café is owned by longtime locals Amy Likins and Christian Echele who have been making healthy foods on the Emerald Coast together for 13 years. They focus on using only locally sourced real whole foods. They provide not only healthy wonderful tasting food, but also have nutrition and wellness workshops and individual consults.
At Synergy they strive to help others find a path to health and well-being by bringing about a greater sense of awareness and wholeness to life. They believe that the secret to a life of health and well-being is found in taking a synergistic or holistic approach to life with a healthy, organic foods based diet.
Their menu includes juices, smoothies, wheatgrass, sandwiches, wraps, and salads. They also have a children's menu which offers dishes such as chicken fingers, almond butter rollups, hummus and veggies and quesadillas. Their breakfast menu includes chia toast, muesli and muffins.
The owners of Synergy turned to Affordable Seating because of its reputation for durable attractive furniture at low prices. "The owner was very happy with being able to save so much money. Also durable seating was important because this is a high traffic venue," Affordable Sales Rep. Dave M. remarked. Affordable Seating has established itself as a leader in the restaurant furniture business because of its many years of working closely with restaurants and its commitment to high quality. Many of its products are made in the U.S.A.
For seating they bought Clarice Metal Chairs with 3 Back Bars in black frame finish and solid wood mahogany seats. The Clarice Metal Chairs with 3 Back Bars currently sell for only sell for $31 with standard options. They also bough matching Clarice Metal Bar Stools with 2 slats for $46.99. The commercial metal chair and bar stool comes with a standard black sandblast frame finish, plastic glides and a padded seat. The frame is available in 5 different finishes. Customers have the choice of a solid wood seat or an American made padded seat made of fabric or vinyl. The wood seat is available in 6 different finishes and for an upholstered seat there are many options to choose from.
The Clarice Metal Chairs with 3 Back Bars and Clarice Bar Stools are very popular choices for restaurants and bars. They are stylish and versatile enough for any type of establishment. They are also very tough and durable, which makes them a smart buy.
The owner also bought solid wood table tops in mahogany finish with eased edge and table bases which are sold separately. Affordable Seating's solid wood table tops are made in the USA from wood responsibly harvested in the Midwest.
To view Affordable Seating's full selection of restaurant chairs, bar stools, booths, tables and patio furniture visit http://www.affordableseating.net or call a customer service representative at (888) 495-8884.
Synergy Organic Juice Bar & Café is located at 120 Miracle Strip Pkwy. SE in Fort Walton Beach, FL. They can be contacted at: (850) 865-4919.